Striking Pregnancy Announcement Inspires Others To Open Up About Fertility Struggles
by Valerie Williams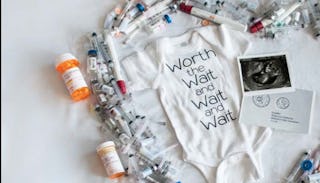 Image via Instagram
Couple uses IVF medications to create a special pregnancy announcement
In this digital age, many couples announce their pregnancies in a creative way on Facebook or other forms of social media. However, it can be a source of pain for some — namely, those struggling with infertility in their quest to have a baby. One mom-to-be was very sensitive to that fact and decided to use her pregnancy announcement to acknowledge what it took to get to this point. The result is a very touching photo that anyone having difficulty getting pregnant will appreciate.
According to The Huffington Post, Macy Rodeffer used IVF to get pregnant with what some refer to as a "rainbow" baby. That is, a baby after one or more miscarriages. Rodeffer and husband Tyler have been on a journey of nearly four years in their effort to have a baby and along the way, receieved diagnoses of male factor infertility, severe endometriosis and surgery to remove an ovarian cyst. Needless to say, the couple is thrilled to finally be expecting but Macy understands what her pregnancy announcement will mean to others going through a similar situation.
"I knew that my announcement would hurt women still waiting for their baby, because I've been there before myself. It was important to me that my announcement not only convey my joy, but also share my struggle and encourage women not to give up."
[shareable_quote]"While I don't expect everyone to share their infertility struggle (as it's a deeply private thing), I felt passionate about being an advocate for women with infertility and pregnancy loss."[/shareable_quote]
To recognize her own struggle and that of others, Rodeffer made the announcement in a very creative way. By using her IVF medications and syringes to make a heart, an ultrasound photo, and a onesie at the center that reads "Worth the wait and wait and wait."
The couple were inspired by a similar photo that went viral last year of a baby surrounded by the IVF medications it took to get her there. "The moment I saw that photo I knew that I wanted to do something that included all of my medicines, too."
Rodeffer, due in October, says, "While I don't expect everyone to share their infertility struggle (as it's a deeply private thing), I felt passionate about being an advocate for women with infertility and pregnancy loss."
And it's wonderful that she feels that way, because although it's becoming more common for couples to share their struggle to get pregnant, there are still many who remain silent. But even those that don't want to be as open with their own journey can benefit from seeing a photo like this.
In sharing the image, Rodeffer says of couples having difficulty conceiving, "There are those who do understand exactly what they are going through. And we're here to support them through their journey. To rejoice with them when it's successful, and cry with them when it's not. To give those who haven't struggled a glimpse into what it takes just to have hope again, and to encourage them to ask questions about how it works and what it's like to go through."
Having been through infertility herself, Rodeffer knew the pain of scrolling through Facebook and seeing pregnancy and birth announcements from others. She knew how much it would probably sting those struggling to get pregnant to see her announcement and decided to use it as an opportunity to spread hope instead of sadness. After a four year struggle, no one would've begrudged her the chance to finally have her moment in the sun with a sweet pregnancy announcement, so the fact that she turned it into something like this is gracious and inspiring.
Rodeffer says, "It is my hope that men and women find encouragement to never give up on their dreams." She and her husband are certainly doing their part in proving that there could be light at the end of the tunnel for other couples going through what they went through. We wish them a happy and healthy nine months.
This article was originally published on