J-Woww Shares 2-Year-Old Son's Autism Diagnosis In Emotional Post
by Cassandra Stone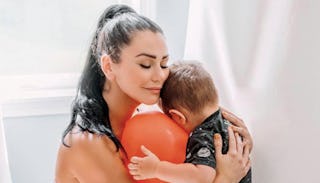 Image via Instagram/J-Woww
The reality star is opening up about her son's diagnosis and how it's changed the way she parents
Earlier this year during an episode of Jersey Shore Family Vacation, cast member Jenni 'J-Woww' Farley revealed her two-year-old son, Greyson, was in therapy for delayed speech. Now, in an emotional Instagram post, she's opening up about his recent autism diagnosis.
"This is a new realm for us. One filled with tons of information and different theory's of treatments," she captions the post, which shows a brand new "sensory room" in her home for her son, Greyson.
"So grateful Grey chose me to be his mommy and @rogermathewsnj to be his daddy," she says. "We won't let him down."
Farley also revealed the news of the diagnosis in a recent interview with Hollywood Life. "Greyson, he was recently diagnosed with autism," she says. "He's made leaps and bounds when it comes to speech." She says he's beginning to connect the dots between words and their meanings.
"Not that he couldn't speak, but he would never know what his shoe is or if you said, 'Greyson,' he actually didn't even know his name at one point until he was a little over two," she explains. "So now that he's understanding simple words, he's come so far."
In August, when first revealing her son's speech delay, thousands of people reached out to the reality star with words of support and encouragement — which validated her reason for going public with her family's story in the first place.
"As a mother, I will go to the moon and back for my kids…no question," she wrote. "I live my life differently because of them. To find out Greyson is 'behind' or 'delayed' crushed me…but only for a moment."
As of this week, it is reported that about one in 40 children in the United States has been diagnosed with autism, with a total of an estimated 1.5 million kids nationwide. The survey also showed that boys were 3.5 times more likely to be diagnosed with autism spectrum disorder.
Farley is also mom to four-year-old Meilani, and tells Hollywood life it was difficult watching her children operate on "two different wavelengths," developmentally-speaking. She also admits it's been difficult to not compare Greyson with other children.
"It was really heartbreaking and frustrating as a mom when you see other two-year-olds that are speaking and living their best life," she says. "Greyson is living his best life."