J-Woww Opens Up About Her Son's Developmental Delay In Emotional Post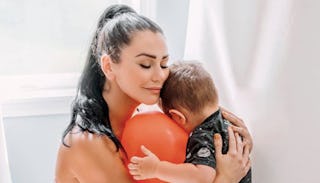 Image via Instagram/J-Woww
J-Woww says she hopes to offer support to other parents who may need it
During a recent episode of Jersey Shore Family Vacation, cast member Jenni 'J-Woww' Farley revealed her two-year-old son, Greyson, is in therapy for delayed speech. Now, in an emotional Instagram post, she's opening up about her son and wants other parents experiencing a similar situation to know they're not alone.
"To everyone that tuned into Jersey Shore last night and messaged, commented, etc. about Greyson with similar stories or just showing love, I can't thank you enough," J-Woww writes.
The reality star wrote a heartfelt caption to her post about her sweet son and shares why she decided to go public with their story. "As a mother, I will go to the moon and back for my kids…no question," she says. "I live my life differently because of them. To find out Greyson is 'behind' or 'delayed' crushed me…but only for a moment."
She admits she had moments of wondering "how could this happen to me?" like any parent would. Regardless, she feels he's "perfect" no matter what, and that developmental delays like Greyson's can happen to anyone — the hundreds of messages she received after the show aired confirmed it.
"I decided to share that side of my family on Jersey Shore because I want to help anyone going through what I'm going through," she writes. "I'm sure people need support the way I've needed it." She says her son is still in speech therapy three times per week and that he's making progress.
According to the American Academy of Pediatrics, delays in speech and language are the most common type of developmental delay. One out of five children will learn to talk or use words later than other children their age. While simple speech delays are sometimes temporary, if they don't resolve on their own after a while, the AAP recommends a doctor's visit specifically related to the suspected speech delay to determine the best course of action.
J-Woww says she's had "almost every test done you can think of" because she wants to help her son achieve everything he's capable of achieving. She ends her post with a very sweet, powerful note for Greyson himself. "If you ever see this in the future, your mommy might be a bit crazy, loud and dramatic but when it comes to you and your sister…I will fight for you two until my last breath…and continue to fight for you after death…your mommy will hold your hand and stand by your side for eternity."