There Is A Heartbreaking Story Behind This Family's Potato Chip Company
by Sa'iyda Shabazz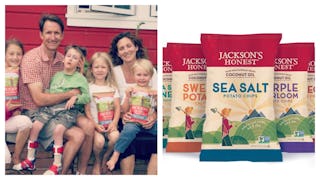 Jackson's Honest
Like most parents, Scott and Megan Reamer wanted to feed their family healthy foods that don't taste nasty and boring. But for the Reamers, the stakes were higher due to a medical condition their son Jackson suffered from which made it even more important that the Reamers eat a diet filled with "good" fats and minimal processed foods. Enter: the family's unique homemade potato chips.
The couple first started making the chips at home, but thanks to a recent appearance on Shark Tank, the chips might be coming to a store near you very soon. After watching the episode, not only were we fighting off some serious potato chip cravings, but we were also super intrigued about the family and their message.
The Reamers started Jackson's Honest about five years ago after they were encouraged to sell the potato chips they had been making for years. Knowing that the snack market is already saturated (no pun intended), the Reamers were hopeful that they had a product that would set them apart. The key? Non-GMO potatoes, sea salt, and coconut oil.
The Reamers were motivated to change their diet and start making their unique potato chips because of the medical needs of their oldest son, Jackson. It was discovered that Jackson had a rare variant of an already-rare autoimmune diseased called Aicardi–Goutières syndrome, which causes inflammation in different parts of the brain. He had been suffering from the disease since he was about 18 months old, but wasn't officially diagnosed until two years ago when he was 14.
The disease caused Jackson's motor skills to deteriorate, and he was unable to speak, eat, or sleep. When he was 3, he suffered from a bout of pancreatitis that was so bad, his doctor didn't think he was going to survive it.
Desperate for a way to keep their son alive, the Reamers turned to a cookbook that focused on "nutrient dense" foods that were minimally processed. That's when they turned to these "good" fats — coconut oil, cod liver oil and lard, along with a few others. After a few weeks on this diet, Jackson's health began to improve. Seeing the effects the change in diet had on Jackson, the Reamers fully embraced the "good" fat dietary philosophy.
"There are two big and critically important misconceptions about fat generally: first that you should minimize the amount of total fat in your diet and second that if you must consume fats of any kind, it's best that they be polyunsaturated vegetable oils composed of omega-6 fatty acids," Megan Reamer told us. "In our experience as parents over the last 16 years, both of these recommendations are wrong."
Seeing such positive results for Jackson, the entire family (they have three other children as well) switched to a ketogenic fat-friendly diet. With no healthy snack options on the stores shelves, the couple started frying their own potato chips in coconut oil and serving them at parties and picnics where people devoured them.
"Most people love to snack on a chip but feel guilty about it," Reamer explained. "[The chips are] a convenient way to add a healthy fat into your diet."
Initially hesitant to sell the chips commercially, the Reamers realized there were likely other families looking for a snack that not only tasted good, but was also good for them. Snacks that taste good aren't always good for you, and what's good for you usually tastes like cardboard — a challenge that the Reamers hope to overcome with their chips.
Jackson's Honest chips are available nationwide, including at many Whole Foods locations. In addition to a variety of flavored potato chips, the company also makes tortilla chips, all of which are made with coconut oil with minimal processing.
In addition to the potato chips, which are also available for purchase on the website, you can buy "Charitable Threads," hats, shirts, and socks with the Jackson's Honest logo. A portion of the proceeds from the sales of the chips and the threads goes to the Jackson's Honest Charitable Foundation, a foundation started by the Reamers to fund research of rare children's diseases.
Sadly, Jackson Reamer passed away unexpectedly on August 13, 2017, shortly after the family filmed their home segments for Shark Tank. He was only 16. The company is the family's way of honoring his legacy.