The Internet Is Obsessed With This Child Actor's Hot Dad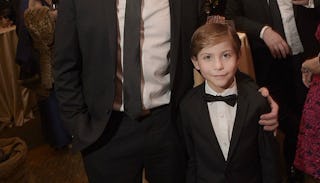 Nine-year-old actor Jacob Tremblay went to the Golden Globes this weekend, and now the Internet can't stop talking about how hot his dad is.
The Golden Globes are always a treat for those of us who are attracted to men. It's a whole red carpet full of the world's handsomest actors all dressed up in beautiful tuxedos, which are exceedingly becoming on almost everyone. During the awards show and its red carpet, the Internet watched breathlessly as handsome men in tuxedos smiled and waved. There's Star Wars: The Force Awakens' Oscar Isaac! And there's Creed's Michael B. Jordan! And there's … wait, who is that guy?
That guy, ladies and gentlemen, is the father of 9-year-old actor Jacob Tremblay–the precocious young actor currently starring in Room with Golden Globe-winner Brie Larson–and he's not a movie star at all. He's just an ordinary, everyday dad who is really, really, ridiculously good-looking.
He's also a police detective, which is one of the most attractive professions there is, thanks at least in part to Idris Elba's turn as a very sexy police detective on Luther. Add to that the piercing eyes, the lopsided smile, and the curly hair, and the good Mr. Tremblay is basically what you'd get if you bought a paint-by-numbers kit to design a "Hot Dad."
Wearing a tuxedo and standing next to a precocious child are two of the fastest ways to make a guy look even more attractive, and Jacob Tremblay's dad did both on the red carpet this weekend, so it's no wonder that the Internet has been collectively fanning itself ever since. As soon as the awards show started, people started hunting for him on Twitter:
It's easy to see how Jacob Tremblay's dad managed to become the talk of the Golden Globes. He's one good-looking dude.
Jacob Tremblay is adorable, and it's easy to see where he gets it from. Now let's all just hope he gets an Oscar nomination for his work in Room so he'll make another red carpet appearance this season and bring his dad along, too.
This article was originally published on