Mr. Horn Moron Apparently Hasn't Eaten In Custody Because The Food's Not Organic
by Cassandra Stone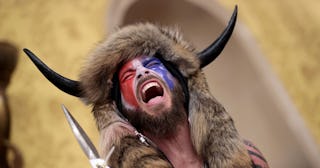 Win McNamee/ Getty
Jacob Chansley's mom says her wittle baby boy gets vewwy sick if he doesn't eat owganic food
After treasonous insurgents terrorized the Capitol building last week, many of the easily-identifiable, maskless rioters have seen the consequences of their actions firsthand: They're being placed on no-fly lists, they're getting canned from their jobs, and some of them are in jail. Self-described "QAnon Shaman" Jake Angeli (real name: Jacob Chansley) is currently being held in an Arizona detention facility. And, gosh darn it, he's very unhappy with the food they're serving there because it's not organic.
Folks, you really can't make this stuff up.
Chansley turned himself in to the FBI field office in Phoenix, where he's from, after returning from the riot in Washington, D.C. He's been charged with knowingly entering or remaining in any restricted building or grounds without lawful authority and violent entry and disorderly conduct on Capitol grounds. Both charges are federal misdemeanors.
Chansley, 33, is a big QAnon conspiracy theorist who often participates in local pro-Trump rallies, according to ABC15 Arizona. He frequently dons, for whatever reason (toxic masculinity and a weird obsession with horned beasts?), a costume of horns and fur headdresses while shirtless. He appeared in court to face his charges virtually, charges he told ABC15 he's "not worried" about.
"I'm not really all that worried about it because, in all honesty…I didn't break any laws. I walked through open doors," he said.
What he is worried about is not being able to eat organic food, apparently. In court earlier this week, his public defender told the judge that Chansley was on an "extremely restrictive diet" and had not eaten since being taken into custody. The judge told his lawyer that the U.S. Marshal's Office would be alerted of the dietary concerns.
His mommy, Martha Chansley, was also in court on Monday, and helped to clarify her son's dietary needs. Oh, and don't worry, they're not for any valid health-related reasons. The big macho horn man just prefers organic food.
"He gets very sick if he doesn't eat organic food – literally will get physically sick," Martha Chansley said.
Maybe he didn't get the memo that he's not being detained at Whole Foods? Hmm. Naturally, the entire internet had some thoughts about Chansley's dietary request.
https://twitter.com/jetpack/status/1348762673362644992
The shaman of white privilege — sorry, QAnon — will have his dietary preferences catered to, per the U.S. Marshal for the District of Arizona.
As for Chansley, it's not hard to see why he might be the entitled terrorist he is, because instead of feeling embarrassment or shame about her son's actions, Martha Chansley (channeling PEAK "not MY kid" white mom of the classroom bully vibes) told ABC15 her son is a "patriot" and "the gentlest person I know."
Hmm. So it's probably not participation trophies that breed entitlement after all, then. It's racist parents raising racist, "I'll kill the Vice President of the United States, but no pesticides in my quinoa PLEASE" kids. Yup, that tracks.
This article was originally published on