10-Year-Old Helps Create 'Raise Your Hand' Girl Scout Patch
by Valerie Williams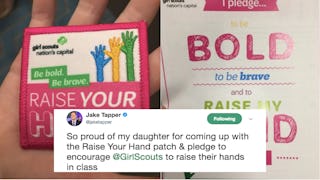 Image via Twitter/Jake Tapper
The patch encourages girls to raise their hands in class
At some point in late elementary school, it seems like girls stop raising their hands. As they enter the tween years, girls aren't as proud of knowing the answer and suddenly, hold back in class and begin to second-guess themselves while their male peers continue to proudly assert themselves — for life.
CNN host Jake Tapper's ten-year-old daughter, Alice Paul Tapper, wrote an op-ed published in The New York Times on this very subject. It's titled I'm 10. And I Want Girls to Raise Their Hands.
And she's not just writing about it; she took action to effect change.
"Last year on a fourth-grade field trip, I noticed that all the boys stood in the front and raised their hands while most of the girls politely stayed in the back and were quiet. It made me upset," Tapper writes.
The now fifth-grader says she told her mom what happened on the car ride home. They discussed how unfair it was and that boys and girls should be treated equally. "My mom talks to me a lot about women's rights and how women are treated differently," she says.
Tapper explains her theories on why her female classmates were staying mum. "I told my mom that I thought girls weren't raising their hands because they were afraid that the answer was going to be wrong and that they would be embarrassed. I also think they were being quiet because the boys already had the teacher's attention, and they worried they might not be able to get it."
Together, Tapper and her mom decided to discuss the experience with her Girl Scout troop. She says all 12 girls agreed it was something they had noticed too — and all of them wanted to fix the issue. "I suggested that we create a Girl Scout patch that would encourage girls to raise their hands in class and be more confident about using our voices," Tapper writes.
So they made it happen. The troop brought the idea to their local council where they presented it. "We decided to call it the Raise Your Hand patch. Its message is that girls should have confidence, step up and become leaders by raising our hands," Tapper explains.
Just like with any other Girl Scout patch, there are steps for a scout to earn it. Tapper's troop made the patch criteria with the idea of their movement spreading in mind. "To get it, a scout needs to pledge to raise her hand in class and recruit at least three other girls who promise to do the same."
Now, it's an official badge any Girl Scout troop can work toward. "I'm proudly wearing mine," she writes.
"People say girls have to be 90 percent confident before we raise our hands, but boys just raise their hands. I tell girls that we should take the risk and try anyway, just like the boys do. If the answer is wrong, it's not the end of the world. It's not like answering a trivia question to win a million dollars on live TV."
Wow. This is it — the moment a ten-year-old girl is more thoughtful and observant than most adults. And thankfully, kids like her are our future.
Her woke attitude didn't happen by accident. The topic of women's rights is brought up frequently in her household — Alice is even named after a famed American suffragette.
"Having Alice Paul's name makes me feel special. For women to be equal to men, we have to fight for it."
Damn right.