Jameela Jamil Slams Heavily Edited Photo Of Herself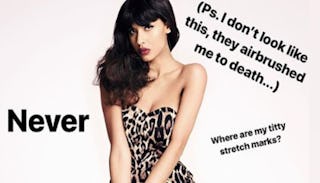 Image via Instagram/Jameela Jamil
Jameela Jamil can't stop, won't stop making us applaud her
Actress Jameela Jamil is calling out a professional photo of herself for being heavily edited and giving impressionable people the wrong impression. She says airbrushing is "the devil" and it's a message we're all reading, loud and clear.
As one of the stars of NBC's The Good Place, Jamil has used her success and her public platform to share powerful messages about body positivity. Her most recent Instagram post rips apart an image of her shot during a 2011 photo shoot for being overly edited.
She writes that she came across the photo and was struck by her appearance in it. "It made me so mentally unwell trying to live up to this image in person," she writes. "Airbrushing is the DEVIL."
She adds her own captions directly onto the photo, leaving no stone unturned when it comes to calling out the ways she was made to look less like herself and more like a completely unattainable standard for any mere mortal. Also? She labeled the "sultry" photo pose "Never Trust A Fart," because she gets us.
"Where are my titty stretchmarks?" she asks in the photo. They also 100% lightened her skin tone, which takes this whole airbrushing thing to a whole other level of shitty behavior. "This airbrushing is why women hate their normal knees," she writes. "My real knees look like a vagina and that's fine!"
They also airbrushed her ankles, because why leave anything natural when you've already done so much work to make a photograph of a live human person look like a completely unnatural version of them?
It would be remiss not to acknowledge that watching a woman who is undeniably beautiful and fits almost every preferred societal and industry standard lash out about bodily imperfections is, well, not thoroughly relatable for those of us who are not those things.
But something we can all universally agree on (I hope) is that she's using her platform with very good intentions. Many celebrities don't use their social media to call out giant corporations like Avon for shaming women's bodies in their advertising (they immediately took the ad down thanks to Jamil).
Rather than join her famous equals by shilling harmful, snake oil products like detox teas and unsafe diet products on Instagram, Jamil is dedicated to helping women accept themselves and their bodies as they are by calling these people out. Directly.
Actually, she takes it a step further than that by wishing the celebrities who contribute to diet influencer culture would "shit their pants in public."
Not all heroes wear capes, folks.