Jameela Jamil: I Face My Fears With Help From Anti-Anxiety Meds
by Erica Gerald Mason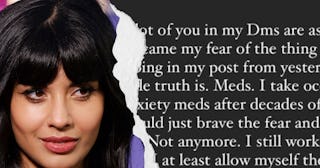 Amanda Edwards/Getty; Jameela Jamil Instagram
The Good Place actor Jameela Jamil recently posted about how she manages her anxiety in new situations
Jameela Jamil is without a doubt one of social media's most powerful voices. After her breakout success in The Good Place, Jamil has used her fame to spotlight and challenge out-of-date and harmful beauty standards and toxic diet culture. After the actor posted about overcoming something she was "terrified of," fans asked how she overcomes anxiety in unfamiliar situations and Jamil shared that she often faces her fears head-on with help from anti-anxiety medication.
Jamil opens up about leaning on anti-anxiety meds, as needed, to overcome her fears.
"A lot of you in my DMS are asking how I overcame my fear of the thing I was scared of doing in my post from yesterday," she wrote on Instagram. "[…] the simple truth is. Meds. I take occasional anti-anxiety meds after decades of thinking I should just brave the fear and get over it."
"Nah. Not anymore," she continued. "I still work on my fears, but I at least allow myself the first time doing something that scares me, some medicinal help, so that my brain can see that it's safe once it has all gone okay, and then it's easier the next time. (Though I absolutely may just take meds/DBD again!)"
"As we round off #mentalhealthawareness month, I want to remind you all of the importance of meds if you need them," Jamil captioned the photo. "They are no different to treating any other part of your body that isn't functioning in a way that is good for you."
"Don't fall into the trap of treat the symptom not the cause, because the symptoms stop you from finding or treating the cause sometimes," she continued. "So use them if you need them to calm the storm inside your head so you can actually have a chance at getting better."
"…If other stuff like yoga, meditation, CBD, weed… etc works for you then that's also great.," Jamil added. "Just please don't suffer, and please don't feel weak or embarrassed for taking them. Anti-anxiety meds have literally saved my life."
Since launching the I Weigh (@i_weigh) community in 2018, Jamil has grown a community of 1.3 million followers that appreciate her posts about self-worth and inclusiveness.
"I'm not some great leader or intellectual, but what I'm really good at is interrupting a narrative," Jamil previously told Grazia. "I think I've been extremely effective in interrupting diet and detox culture. Can I single-handedly get rid of it? Sadly, no. But I can make you think twice about it."
Jamil has a history of openness about mental health and wellness.
"Exercise is not an exclusive members club. We were just fooled into thinking it was," Jamil continued. "If you're overcoming an eating disorder, if you've just had a baby, if you're bigger than you wish you were or smaller than you wish you were, if you were in an abusive relationship and you've become detached from your body…it's never too late to try to take back ownership of your own body, free from our nonsense societal vanity sodden propaganda.
Thanks for joining me. It's helping my mental health too. We're in this together. We are Taking exercise BACK."
In the same interview with Grazia, Jamil spoke about the importance of positive self talk. "Our bodies are our best friends. Our bodies are our ride-or-die. They will be with you until 4am in the club. They're going to have sex with who you want to have sex with, they're going to eat what you want to eat, they're going to fix you when you fall over. When you start to look at your body as your best friend you want to protect it more and stop talking shit to it. You want to stop mistreating it, because it does more for you than anyone else in your life."
Body positivity and mental health go hand-in-hand and we're glad Jamil is talking about all of it.