Actress Jameela Jamil Goes Off On Celebrities Who Peddle Detox Tea To Fans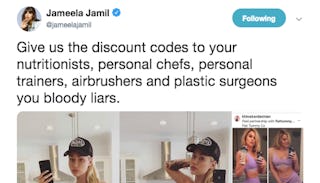 Image via Twitter/Jameela Jamil
Jameela Jamil is setting the record straight on these dangerous diet products and the celebrities who shill them
Raise your hand if you're sick and tired of seeing celebrities hawk diet and detox products on Instagram. Even if you aren't (you must not be on Instagram, in which case — congratulations, genuinely), actress Jameela Jamil sure is.
And she's ready to call out every single celebrity she sees peddling their dangerous diet products to their fans.
If you are active on Instagram, you probably scroll past celebrities (anywhere from the A-list to the Z-list) shilling diet products and detox teas a dozen times a day. Or more. It's not only annoying; it's harmful.
Jameela Jamil, best known from the popular TV show The Good Place, is taking to her Twitter and Instagram pages to directly address celebrities like Khloe Kardashian, Iggy Azalea, and Cardi B for implying they have the bodies they have by drinking detox tea.
In fact, she jokingly says she hopes all these celebrities "shit their pants in public." LOL.
What would be far less harmful is if, you know, they all admitted to having the financial means for personal chefs, personal trainers, and plastic surgery whereas most of their fans do not. There is absolutely no way on earth any of them have six-packs, toned muscles, and trim waists from drinking tea or sucking on diet lollipops.
Jamil says she was influenced by similar marketing when she was a teenager, and developed a pattern of disordered eating because of it.
It's one of the reasons she began a social media campaign called "I Weigh," which seeks to help women (and men) "feel valuable and see how amazing we are, and look beyond the flesh on our bones."
Her main point with celebs who shill these teas and toxic detoxes: it's more than a little gross that people who already have tons of money are making even more money from unassuming fans who just want to have the same flat stomachs and bodies as these women do.
She even took to her Instagram page to explain why she's so against products like Flat Tummy Tea and the effect it has on its targeted female consumers.
"These 'weight loss' products like Flat Tummy Co, don't make you thinner. They make you shit. They give you diarrhea, which then gives you a flatter tummy for a day. THAT'S ALL."
She's not wrong. The primary ingredients in many of these popular "detox" teas are caffeine (a known diuretic) and senna root, a laxative used to treat constipation and clear the bowels of patients pre-colonoscopy.
"The weight loss [from detox teas] is primarily, and probably all, water weight," Dr. Karin Kratina, a nationally recognized nutrition therapist, tells Teen Vogue. "If true weight loss occurs, it is because a caloric deficit also occurred from a change in eating habits."
Many of these teas peddled by celebrities contain warnings on the package about ensuring consumers have access to a toilet when taking them.
Jamil even posted a parody video showing what these ads would really look like if celebrities actually used these harmful detox products (they most likely don't). Spoiler alert: she ends up on a toilet seat "for three days."
"Discount code is in my bio!" BRB, dying forever.
All hail Queen Jameela Jamil and her honesty, doing the Lord's work in effective, feminist social media messaging.
This article was originally published on