Jameela Jamil Calls Out Amber Rose For Promoting Detox Tea While Pregnant
by Cassandra Stone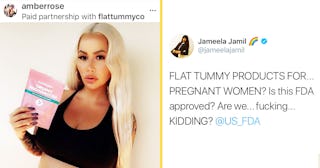 Amber Rose/Instagram and Jameela Jamil/Twitter
Flat Tummy Tea's own website tells women not to use their products while pregnant, so what gives?
One thing that should be an undeniable, universal truth is that women are not supposed to have flat stomachs while pregnant, yes? Like, that's basically pregnancy's whole deal — your stomach gets progressively larger because it's housing a fetus. It's…supposed to do that. Which is why it feels unsettling that Amber Rose would be shilling for Flat Tummy Tea while pregnant. And Jameela Jamil, Detox Tea Crusader Extraordinaire, is having none of it.
Yesterday, Rose shared a sponsored photo of herself posing with a pack of Flat Tummy Tea, showing off her very noticeable second-trimester baby bump. Flat Tummy apparently makes an "organic pregnancy tea" to help with "bloating" and "digestion."
https://www.instagram.com/p/By3mfoQn4gD/
Jamil, who has made kind of a secondary career for herself as a body positive activist, is no stranger to calling out celebrities for peddling these dangerous, non-FDA approved detox products. She took to her Twitter account earlier today to address Rose specifically.
"FLAT TUMMY PRODUCTS FOR… PREGNANT WOMEN?" she writes. "Is this FDA-approved? Are we… fucking…kidding?"
The Organic Pregnancy Tea is for "babes with babies," according to the Flat Tummy Tea website. "If you're feeling bloated, nauseous or like you could use a little extra help with digestion, we've officially got you covered."
While I'm not a medical professional nor an OB/GYN, I feel confident in saying it's probably not a great idea to offer pregnant women help with "digestion." Dehydrating oneself via diarrhea isn't a good idea for anyone, but it's definitely concerning to lead pregnant women to believe they need help "battling their bloat" with Flat Tummy Tea.
There were plenty of strong reactions to Rose's controversial Instagram post.
https://twitter.com/jetpack/status/1141390982640021504
https://twitter.com/jetpack/status/1141390328739651584
One Twitter user did her homework on the Flat Tummy site, where they tell you specifically not to use their products if you're pregnant or breastfeeding. ON THE PAGE OF THE PRODUCT ITSELF.
https://twitter.com/jetpack/status/1141409287866081280
As one use points out, being pregnant is hard enough on your body and your mind. Targeting vulnerable pregnant women, like Flat Tummy Tea is shamelessly doing, is especially unhealthy for pregnant people who have struggled with disordered eating.
https://twitter.com/jetpack/status/1141393954828689408
Earlier this year, Jamil called out Khloe Kardashian for peddling the detox tea on her own Instagram page: "If you're too irresponsible to a) own up to the fact that you have a personal trainer, nutritionist, probable chef and a surgeon to achieve your aesthetic, rather than this laxative product … and b) tell them the side effects of this non-FDA-approved product, that most doctors are saying [isn't] healthy … then I guess I have to," she said.
Jamil started a Change.org petition to stop celebrities from promoting products like this and spreading misinformation and influencing their followers in a harmful way. Here's hoping her work leads to real change on social media platforms when it comes to sponsored content like this.