Thanks To Jameela Teens Will No Longer Be Served Diet/Detox Ads On Instagram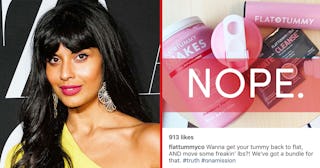 Sean Zanni/Getty and Flat Tummy Co/Instagram
Thanks to Jameela Jamil, it will now be easier to report and ban detox and diet products being shilled on Instagram
Jameela Jamil has been tirelessly waging a war against detox teas, diet pills, and other appetite-suppressing Instagram fads, and on Wednesday September 18, 2019, she won. The actress has long been critical of celebrities and influencers who hawk diet and other detox products on Instagram, most of which are backed by dubious pseudo-scientific claims. Thanks to Jamil's tireless campaign, Instagram has agreed to ban any content that promotes and makes false claims about a diet or weight loss product and Instagram users under 18 years old will be prohibited from viewing said posts entirely.
Jamil's issues are two-fold: diet products are being sold to impressionable young people, which can lead to disordered eating, and also that there is no science to back up the claims of these so-called weight loss products.
Earlier this year, Jamil launched a petition urging the various social media juggernauts to rethink their stance on influencers who promote diet products in sponsored posts. "In the last few years we have seen a scary rise in the marriage of celebrity and diet/detox endorsement. There's little to no information about the side effects or main ingredients, the harm they may cause or any of the science behind how these products are supposed to work. They are instead, flogged in glossy paid adverts by celebrities and influencers with no expertise or authority in nutrition/medicine/biology," Jamil wrote at the time.
Jamil announced Instagram's landmark decision on the platform, writing: "As of now, if you're under 18, you will no longer be exposed to any diet/detox products, and all fad products that have bogus, unrealistic claims will be taken down and easy to report."
Jameela has been especially vocal about the Kardashian's constant promotion of weight loss products and has urged the family to accept their responsibility as role models who can afford to turn down Instagram ads. The Kardashians told The New York Times that they do so many sponsored Instagram posts for diet products because they are "easy" and don't require them to take time away from raising their kids.
"It sets the tone that this is not ok in our society," Jamil told Elle UK after Instagram announced their decision. "We have hyper-normalised flogging nonsense to young impressionable people. These people are selling hair growth gummies, but wearing extensions or photoshopping themselves to look slimmer and selling a weight loss shake. There are so many lies being told and we've accepted that as a cultural norm."