Jameela Jamil Opened Up About Her Past Suicide Attempt For World Mental Health Day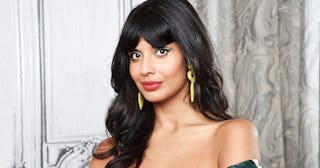 Gary Gershoff/Getty
This World Mental Health Day, Jameela Jamil wants everyone to remember that help is out there
World Mental Health Day obviously comes at a poignant time for Jameela Jamil. While people all around the world were remembering to reach out and take care of one another in honor of the day, Jamil was remembering that in the same month, six years ago, she nearly died from suicide. She posted about it on Instagram in the hopes it could inspire or help some of her followers.
"Today is #WorldMentalHealthDay," she wrote in a note that was shared to her feed. "This month, 6 years ago, I tried to take my own life. I'm so lucky that I survived, and went on to use EMDR to treat my severed PTSD. I urge you to hang on just a bit longer and ask for help if you need it. Because things can turn around. I promise."
Things definitely turned around for Jamil, who landed a role on The Good Place and became one of our favorite actors who constantly uses her fame and platform to do good for others. She speaks up for those who have less privilege than she does all the time, and it's all because she got the help she needed during that terrible time in her life.
https://www.instagram.com/p/B3a8HLoFLSK/
In the caption, Jamil wrote more about how people can get help if they need it, tagging a few free resources that are available online.
"Not everyone is lucky enough to be able to access affordable therapy. But if you can't, in the mean time, there are helplines," she wrote, tagging the Crisis Text Line, which is available in the U.S., and Shout UK, a resource for people in Britain.
Jamil continued, "It's not something you have to tolerate on your own. You have nothing to hide or be ashamed of. I feel you. I've been there. And it's a process of radical self forgiveness, patience and care that will help you out. It feels like the pain, nightmares and exhaustion will never end sometimes, but they can. And they will."
Her message is incredibly important, on World Mental Health Day and every other day of the year. According to Save.org, someone dies by suicide in the U.S. every 12 minutes. Suicide is now the 10th leading cause of death for all Americans. That's terrifying, and yet, there's a stigma around suicide (and mental health in general) that often keeps us from talking about. Meanwhile, it's a real crisis that's ending people's lives and affecting millions of people.
So thank you, Jameela Jamil, for sharing something so personal in the name of helping others. If just one person sees Jamil's message and gets help, it will have been worthwhile.