Jameela Jamil Is About To Become A Marvel Villain
by Christina Marfice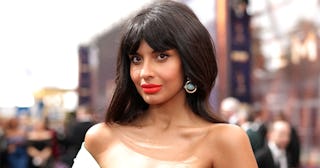 Rich Polk/Getty
Jameela Jamil just joined the Marvel cinematic universe, and fans are very here for it
Disney Plus has a long list of Marvel content lined up and ready to produce. One of the original series coming to the streaming platform is She-Hulk, the story of a badass lawyer who gains green skin and super strength after receiving a blood transfusion from her cousin, Bruce Banner. Naturally, where there's a Marvel superhero there must be a Marvel supervillain, so enter Jameela Jamil, who was just cast to play Titania, She-Hulk's nemesis.
The show will star Orphan Black's Tatiana Maslany as Jennifer Walters, AKA the She-Hulk. Also appearing on our Disney Plus screens in this series will be Hamilton star Renée Elise Goldsberry, Ginger Gonzaga, and Tim Roth, and of course, Mark Ruffalo will be back as the Hulk himself. The show is billed as a comedy, and features writers and directors from Rick and Morty, Single Parents, and Never Have I Ever, so we're pretty confident that we're in for some laughs.
Jamil herself took to Instagram to share her excitement. "Life is extremely silly at the moment," she writes, adding, "Ps. I'm such a super fan of all of these people. I'm going to nerd out so hard at the premiere. Expect many embarrassing selfies. Sorry in advance."
But the lack of details got the Twitterverse talking as much as the news of Jamil's casting.
People are especially excited to see diversity and representation in the MCU, and as the most casual of Marvel fans, I couldn't agree more. Always here for more representation in all forms of entertainment.
Titania honestly seems like a perfect gig for Jamil. Her character will be super evil and have super strength, and after seeing Jamil in another comedic, semi-villain role in The Good Place, we know how well she can balance being an antagonist while still bringing a fascinating character to life — and making us laugh as she does it.
This also comes on the heels of some controversy in Jamil's professional life. She faced a lot of scrutiny and backlash after she was cast as a judge on HBO's Legendary, a ballroom competition. Members of the LGBTQ+ community, particularly those in the trans community, took issue with Jamil, a cisgender woman, being the face of the show.
There's still no release date for Disney's new She-Hulk series, but we might have to wait a while. The streamer just premiered Loki, the latest addition to its packed lineup of Marvel shows, and has plans for plenty more Marvel content to keep fans busy while they wait for this series to premiere.