Jameela Jamil Slams WW's New Diet App That Targets Users As Young As 8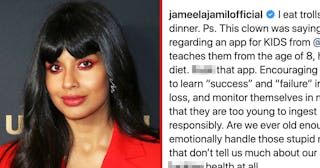 David Livingston/Getty and Jameela Jamil/Instagram
Jameela Jamil calls out WW for their new diet app geared toward kids
Jameela Jamil is a body positivity hero and absolutely no stranger to speaking out against things like celebrities hawking dangerous diet teas and the rampant airbrushing done on both famous folks and influencers. Continuing in that theme, she's now calling out WW (formerly known as Weight Watchers) after hearing about their new dieting app for kids.
The app, called Kurbo, is already receiving tons of backlash, and according to Jamil, rightfully so. In response to a tweet from a man who told her she's "broken" for being upset by the app, the actress and activist went off about how damaging this kind of messaging can be for children. "This clown was saying this regarding an app for KIDS from @ww that teaches them from the age of 8, how to diet. Fuck that app," she wrote alongside a screencap of the man's tweet and her amazing reply.
Jamil has more than just angry words for the company — she has receipts. "Encouraging children to learn calories and 'success' and 'failure' in weight loss, and monitor themselves in numbers that they are too young to ingest responsibly. Are we ever old enough to emotionally handle those stupid numbers that don't tell us much about our actual fucking health at all," she fumes.
She issues a plea to parents based on her own childhood experiences with diet culture and the damage it can inflict. "If you are a parent and you allow your child at the age of 8, to start ingesting diet culture and fat-phobia by themselves on their phone, then you are fucking up. I was 11 when I was put on my first diet. And it ruined the rest of my life, because I developed an irrational terror of food and fat."
Her rage wasn't just confined to Instagram — she went off on Twitter as well. "Oh fuck no… are we kidding? Breeding obsession with weight and calories and food at the age of…8?" she said.
She also has thoughts on how to truly help kids who need advice on making healthier choices — and it doesn't include having them enter everything they eat into an app.
https://twitter.com/jetpack/status/1161534688265154560
Jamil is also encouraging people to sign a petition for WW to stop the app.
Parents are even sharing their children's "progress" while using the app, allowing Kurbo to post before and after photos.
Jamil ends her Instagram post asking people to stay away from the app. "Say no to this hugely irresponsible app by @ww they just continue to be the worst."
This article was originally published on