James Corden & Ariana Grande's 'Hairspray' Parody Celebrates End Of Lockdown
by Madison Vanderberg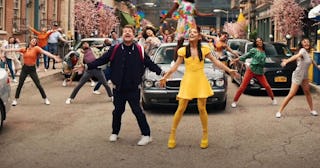 The Late Late Show with James Corden/Youtube
James Corden and Ariana Grande premiere "No Lockdowns Anymore" on The Late Late Show
There's something in the air and that something is the thrill of a post-vax summer, baby! At this point, almost every state has fully reopened businesses and put an end to social distancing requirements, 55% of American adults are fully vaccinated, and the world is finally starting to feel ~normal~ again. To celebrate the "end of lockdown," Ariana Grande and James Corden put a pandemic spin on the Hairspray classic song "Good Morning Baltimore" by changing the lyrics to "No Lockdowns Anymore." They premiered the fun musical bit on The Late Late Show with James Corden and the result is a cute and cheeky ode to the end of 24/7 sweatpants and a RIP to Zoom!
Featuring a cameo from actual Hairspray star Marissa Jaret Winokur, the trio sings: "Got the vaccine and it's been two weeks, there's life in the streets! People are at brunch, and I've got a hunch that mimosas are gonna be bottomless."
"Turning off zoom after 15 long months stuck on mute. No lockdowns anymore! Will they still take my temp at the door?" Corden croons, while Grande — in her first TV appearance since her secret wedding — swoops in with, "Look at my hair, I'm no longer scared to have it cut! Back in the gym, where I start to sweat! It's been so long since I've put on my shoes!"
The whole thing is just joy, hope, and optimism on a musical platter…even down to Grande's all-yellow outfit.
"This number felt like the breath of fresh air we have all NEEDED and such a love letter to Broadway and it's community that has suffered so much from this epidemic," Jaret Winokur wrote on Instagram about the music video.
The song is so ebullient it even made the worst parts of the pandemic ending (i.e. the return of traffic and having to go back to work "inside" an office) seem like good things. I can't believe it's been 15 months since I sat in my car in gridlock traffic with the soundtrack of angry cars honking at me! I missed it!
The fact that the song reworked the lyrics to a Hairspray song is fitting as Grande played Tracy Turnblad's best friend Penny Pingleton in the 2016 NBC "live" Hairspray event.
The video is cute and joyful and a reminder that the only reason any of this is possible is thanks to vaccines! Really! Which is why we Americans can sing about getting off the couch and getting back into the gym, but it's important to remember that many other parts of the world have not had adequate access to the life-changing vaccine and are not anywhere near our levels of post-lockdown bliss. Spread the wealth, get the vaccine, and get everyone on that post-vax post-pandemic lifestyle!