James Corden & Justin Bieber Get LOL-Worthy Dance Lesson From Toddlers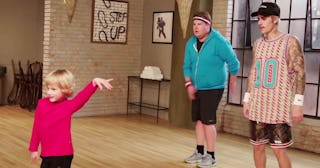 The Late Late Show with James Corden/Youtube
Justin Bieber shows he still has moves in hilarious toddler dance segment
If you've ever watched The Late Late Show with James Corden or seen his Carpool Karaoke segments, odds are you've fallen in love with his quick wit, self-deprecating personality, and very high entertainment value. He's had countless famous guests on his show (I'm looking at you, Jason Momoa), but his recent segment of Toddlerography with Justin Bieber that may be a new fav.
Corden hosted Justin Bieber on the segment and the duo's job was to keep up with feisty toddlers with some sweet, sweet dance moves. Corden was ready — John McEnroe-inspired sweatband and all — and it turns out watching two grown men dance like kids is hilariously entertaining.
"You're really sweating. Class hasn't even started yet," Bieber said to Corden.
"I'm just a little jittery, man. These instructors, they don't mess around," Corden replied.
The camera panned to an adorable little girl who gives them a brief wave and then it's on. The girl and several other tots led dance routines set to Bieber's first big hit, "Baby." There was moving and grooving and I think I spotted The Floss in there somewhere and Bieber and Corden did their best to keep up. That is until one of the kids did a cartwheel and Corden wasn't having it.
This isn't the first time Corden has introduced new dance segments on his show. He introduced Crosswalk the Musical, which takes a popular musical and sets it in the streets (like in the middle) of a city. Recently, he took the fictitious town of Arendelle and decided to bring Anna, Elsa, Sven, Olaf, and the rest of the Frozen gang into the streets of LA for the hilarious parody.
The TV host has had many famous people on Toddlerography in the past, including Jennifer Lopez, Jenna Dewan, Gwyneth Paltrow, and Jason DeRulo — all shaking their tails trying to keep up with a bunch of kids. But watching Justin Bieber grow up seemingly in front of our eyes made this segment even sweeter.
Bieber and Corden spun on the ground, ran across the room, jumped (there is a lot of jumping) and generally jiggled all over throughout the segment but the kids really stole the show. It's clear they love to boogie and really put all their moves on display to try to trip the pair up.
Finally, Corden called it asking for a rest. "I need to cool down," the comedian said, before they sat in a circle and blew bubbles with one of the little girls. The whole adorable routine only lasts two-and-a-half minutes and it's well worth the watch. If for no other reason than watching James Corden in a sweatband.
This article was originally published on