The Internet Is Dragging James Franco For Wearing A 'Time's Up' Pin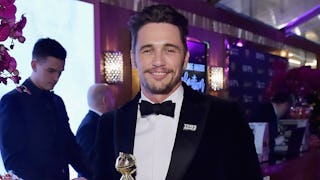 Image via Stefanie Keenan/Getty Images for FIJI Water
James Franco is being called out on Twitter for hypocrisy over "Time's Up" pin
At last night's Golden Globes, James Franco accepted the award for best lead actor in a comedy for The Disaster Artist. He stepped onstage dressed in black, donning a "Time's Up" pin as a nod to the movement led by hundreds of Hollywood women in hopes of supporting those who need legal help in addressing issues of sexual harassment and assault.
Now, Twitter is calling out Franco but his own alleged abusive behavior and having the nerve to wear the pin in the first place.
The criticism and calling out of Franco began last night with Breakfast Club actress Ally Sheedy sending some cryptic tweets that she later deleted.
"Franco just won," she said. "Please never ever ask my why I left the film/tv business." Earlier, she tweeted about Franco and Christian Slater being at a table together, along with the "metoo" hashtag, suggesting. She also questioned why a man was hosting and why Franco was allowed into the show in the first place.
Sheedy worked with the actor on the off-Broadway production of "The Long Shrift" back in 2014, the same year that Franco came under fire for trying to hook up with a 17-year-old girl on Instagram, sending her repeated private messages where he asked how old she was. He continued hitting on her, sending photos of himself as proof of his identity, even after learning she was only 17 at the time.
In a since-deleted Instagram post, Franco shared a meme accusing him of liking young girls. He wrote, "I'M NOT! I HOPE PARENTS KEEP THEIR TEENS AWAY FROM ME. Thank you."
Sheedy wasn't the only woman taking to Twitter to sound off on Franco's alleged abusive behavior. Actress Violet Paley accused him of sexual assault and trying to pick up another 17-year-old girl.
In the replies to her original tweet, Paley hints that there's more to come as far as her story being told and that she has evidence to back her accusations.
Another actress accused Franco of exploiting her by asking her to do full nudity in two films for an insultingly low sum.
In addition to those accusing him of assault, Twitter in general was quick to call out his astounding hypocrisy and abusive past.
It's telling that back in 2014, one of the headlines for Franco's attempt at picking up a teenage girl referred to the instance as an "Instagram scandal." It wasn't a scandal, it was a 35-year-old adult man in a position of power attempting to use that power to set up a meeting with a very young girl. That's not a scandal, that's a gross abuse of power.
While we have a long way to go, it seems we're finally on the path to recognizing that fact.
This article was originally published on