Two Women Are Suing James Franco For Alleged Sexual Exploitation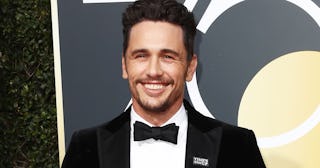 Frederick M. Brown/Getty
The two former students of Franco's are also suing the actor for fraud
James Franco is named in a lawsuit that alleges he and two other men who ran an acting school, Studio 4, sexually exploited female students. The complaint was filed yesterday in a Los Angeles Superior Court by two former students of the now-closed acting school.
The women say Franco and his partners subjected them to sexually exploitative auditions and film shoots, while assuring them roles in movies that never materialized or were never released.
According to the New York Times, Sarah Tither-Kaplan and Toni Gaal say Franco and his business partners "engaged in widespread inappropriate and sexually charged behavior towards female students by sexualizing their power as a teacher and an employer by dangling the opportunity for roles in their projects." The suit says these actions are what "led to an environment of harassment and sexual exploitation both in and out of the class."
Studio 4 opened in 2014, and Tither-Kaplan was one of the school's first students. Apparently Franco taught a class called "Sex Scenes." According to the complaint, students had to audition for the class rather than just register for it, for an additional cost of $750.
"I really respected him as an actor, and the fact that I was selected based off of an audition meant to me that I was valued for my talent," Tither-Kaplan tells NPR.
This isn't the first time Franco has made headlines for abusive behavior — Busy Philipps says he assaulted her on the set of Freaks and Geeks back when the two were co-stars on the short-lived show.
Tither-Kaplan says she was uninformed about "nudity riders" and her rights surrounding them. Nudity riders are primarily the product of the collective bargaining agreements between actors unions. These agreements provide that when scenes in a film or TV project require nudity or simulated sex, the production environment is restricted to a small number of persons present, each of whom must be directly related to the scene and material in question. Still photography is not permitted, and clips from the scene may not be used in promotions, etc., without the actors' consent.
She says she was "rewarded" for her participation in sex scenes by getting the chance to work with Franco regularly, and that "not a lot of other students" had the same chance.
"Most of the work that was offered for us had nudity requirements — for women specifically," Toni Gaal, the second plaintiff in the suit, says. The suit represents a class of more than 100 former female students at Studio 4. Their complaint alleges that Studio 4 set out to "create a steady stream of young women to objectify and exploit."
The complaint also contends that the school was "designed to circumvent California's 'pay for play' regulations," which prohibit making actors pay for auditions. So not only were these women allegedly exploited sexually, they weren't compensated for their time according to the law.
This isn't the first time this story has made waves — after Franco wore a "Time's Up" pin to the 2018 Golden Globes, Tither-Kaplan and other former students took to social media to call out the actor for being "disingenuous."
James Franco's attorney, Michael Plonsker, issued this statement denying the allegations:
"This is not the first time that these claims have been made and they have already been debunked. James will not only fully defend himself, but will also seek damages from the plaintiffs and their attorneys for filing this scurrilous publicity-seeking lawsuit."
As for her part, Tither-Kaplan is standing firm against the alleged abuse of power:
"They knew who they were asking to do the improvised sex and nude scenes," Tither-Kaplan says. "They knew what level we were at in our careers. And I think that's by design, because it sort of protects them from any real repercussions because they can just write us off as nobodies."
This article was originally published on