James Franco Will Pay $2.2 Million To Settle Sexual Assault Lawsuit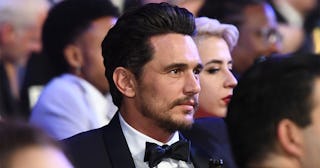 Dimitrios Kambouris/Getty
James Franco and his team have reportedly agreed to a settlement, but it has yet to be approved by a judge
In 2019, several of James Franco's former students at his acting school filed a lawsuit against him. Their suit followed allegations from students and other women in Hollywood that Franco had sexually abused and exploited young women in the industry. This week, Franco agreed to a settlement in the lawsuit which will require him to pay out more than $2.2 million to be split among a number of his accusers.
The settlement agreement, which was filed in court this week, will require Franco to pay a total of $2,235,000, which will be split up: $894,000 to the women who have accused him of sexual exploitation, and $1,341,000 in a common fund for plaintiffs who have accused him — and his acting school — of fraud. Franco and his team have agreed to the terms of the settlement, but it has yet to be approved by a judge.
The agreement says that Franco will accept no responsibility or liability for the accusations against him, and in exchange for the money, plaintiffs Sarah Tither-Kaplan and Toni Gaal agree to release their claims against Franco. If the settlement is approved, Tither Kaplan will receive $670,500 minus $223,500 in lawyer's fees, and Gaal will receive $223,500 minus $74,500 for her lawyers.
The Los Angeles Times reports that the $1.3 million common fund will be divided among students who paid tuition for Master Class courses or spots at Franco's Studio 4 Film School in New York or L.A. from February of 2014 until the schools shut down in 2017.
In their lawsuit, a group of women alleged that Franco's film school was a farce, set up simply to provide the actor with a stream of young, impressionable women whom he could exploit both financially and sexually. In a 2018 investigation by the Los Angeles Times, five women accused Franco of sexual harassment, abuse, and exploitation. Some made harrowing claims, like saying the actor pushed them into increasingly explicit scenes, including an "orgy type setting," at his acting school. The women said Franco implied that they could land roles in his films, but only if they went along with sexual scenes in classes.
Franco "sought to create a pipeline of young women who were subjected to his personal and professional sexual exploitation in the name of education," according to the lawsuit. Franco has also since been accused of sexual assault by his former Freaks and Geeks co-star, Busy Phillips.