James Michael Tyler AKA Gunther From 'Friends' Reveals Stage 4 Cancer Diagnosis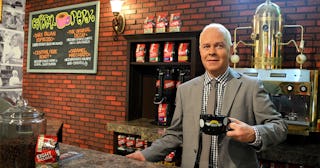 Simon Broll/picture alliance/Getty
In a new interview, James Michael Tyler aka Gunther from 'Friends' discusses his health struggles
In some sad news, James Michael Tyler, the actor who portrayed the Rachel-obsessed Gunther on Friends, has been diagnosed with advanced prostate cancer. The diagnosis, which took place almost three years ago, has now left the actor unable to walk and has progressed to Stage 4.
In a new interview with Today from June 21, 2021, Tyler shared that he was diagnosed with prostate cancer after a routine check-up in September 2018.
"I was 56 years old at the time, and they screen for PSA, which is a prostate-specific antigen," Tyler said in the interview. "That came back at an extraordinarily high number…So I knew immediately when I went online and I saw the results of my blood test and blood work that there was obviously something quite wrong there. Nearly immediately, my doctor called me and said, 'Hey, I need you to come in tomorrow because I suspect that you may have quite a serious problem with your prostate.'"
"I missed going in for a test, which was not a good thing," Tyler noted. "So the cancer decided to mutate at the time of the pandemic, and so it's progressed."
Before that, Tyler underwent hormone therapy, which he said "worked amazingly for about a year," which gave him the freedom to "go about life regularly."
"All I had to do was take a pill in the morning and the night, and boom, life was pretty much normal," said Tyler. "[…] I had it then, but (was) able to function normally. … I was feeling fine, honestly. I had no symptoms, I didn't feel any symptoms. And it was very easy to regulate."
Tyler said that while it was initially optimistic, the cancer eventually spread to his bones and spine, causing him to be paralyzed in the lower part of his body.
"For my specific prognosis, it's of course stage 4," Tyler admitted. "Late stage cancer. So eventually, you know, it's gonna probably get me."
Tyler encourages men to ask their health care providers for a PSA test at their next appointment, with an aim to "help save at least one life by coming out with this news."
"There are other options available to men if they catch it before me," Tyler said in the interview. "Next time you go in for just a basic exam or your yearly checkup, please ask your doctor for a PSA test. It's easily detectable."
Last month, Tyler guested on the Friends reunion via Zoom. "It was the most memorable 10 years of my life, honestly," he said of his work on the iconic show. "I could not have imagined just a better experience. All these guys were fantastic and just a joy to work with. It felt very, very special."
Tyler spoke about how he's facing his illness. "It's made me, personally, just realize how important every moment is, every day. And fighting. Don't give up. Keep fighting."
The American Cancer Society recommends men who are at average risk begin conversations with their doctor at age 50; advice varies for men at higher risk of disease. It's important to know your family history and discuss it with your doctor. The Prostate Cancer Foundation recommends that men at higher risk like Black men or men with a family history of cancer be screened at the age of 40.