Heroic Man Who Stopped Waffle House Shooter Is Paying For Victim Funerals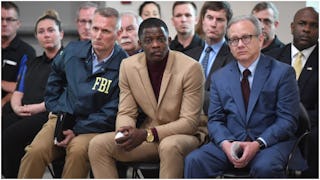 Image via Jason Davis/Getty Images
James Shaw Jr. is raising money to cover the funerals for victims
James Shaw Jr. refuses to call himself a hero, but he completely, unequivocally is one. When an armed man entered a Nashville-area Waffle House and began shooting, Shaw leaped up, wrestled the gun out of his hands, and pushed him out the door. Sadly, four lives were lost that day — and now Shaw is raising money to cover the cost of their funerals.
Last weekend, Shaw set up a GoFundMe page with the hopes of raising $15,000 for the victims' families.
"My name is James Shaw Jr.," he wrote. "I am creating this page to help the families of the victims from the Shooting that took place at Waffle House in Antioch, TN. Please take the time to donate as all of the proceeds will be given to the families. Thank you again for your generosity and blessings!"
Within six days, he had raised $190,176. The entire comment section is a tribute to the victims and the brave 29-year-old, who has a generous, empathetic streak that runs about 100,000 miles long.
"Thank you for doing this for the victims," one donor wrote on the fundraiser page. "I hope it eases some of their suffering during this tragic time." Another added: "James, thank you; you saved many lives by what you did."
Shaw has been quick to deflect the heaping of praise — which kind of makes him all the more amazing. "I'm not a hero. I'm just a regular person," he said, per NPR. "I think anybody could've did what I did if they're just pushed in that kind of cage and you have to either react or you're going to, you know, fold."
Others beg to differ. Tennessee's General Assembly issued a resolution that spelled out just how incredible, brave, and quick thinking Shaw was during the shooting. "Mr. Shaw is indeed a hero; his actions on that fateful morning are unfathomable to most, indescribable by even the chief of police, and very poignant to the citizens of Nashville, who are deeply grateful for his brave actions in the face of extreme adversity that saved many lives."
Meanwhile, strangers across the country want to show their appreciation as well. Yashar Ali, a writer for New York Magazine, started a GoFundMe to raise money for Shaw. He set the goal at $200,000, and has managed to reach $197,175 in just five days.
"Since that horrific shooting, [Shaw] has raised tens of thousands of dollars for the victims and shown a level of humility that has inspired many of us," Ali wrote. "According to news reports, James has a four-year-old daughter. Perhaps this money can be used for her college fund or some other education-related expense. But I'd be just as happy if James used some of this money to take his family on a nice vacation."