James Van Der Beek Shares Pregnancy News On DWTS To Help Reduce Miscarriage Stigma
by Sarah Bregel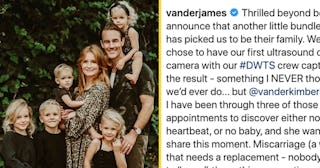 James Van Der Beek/Instagram
James Van Der Beek announces on DWTS that he and his wife are expecting their sixth baby and discussed their previous losses
Last night on Dancing with the Stars, actor James Van Der Beek revealed that he and his wife, Kimberly, are expecting their sixth baby. While announcing that another child would be joining their brood on the live TV show was already a pretty big moment, the star also used the opportunity to talk about something else that we definitely don't hear enough about: miscarriage.
Van Der Beek opened up about the couple's past pregnancy troubles in a prerecorded segment. "We've had five kids and three miscarriages," he says while talking to his dance partner, Emma Slater. "Miscarriage is something that people don't really talk about, and we wanted to recognize that it happens to people. We wanted to destigmitize that as much as we possibly could."
The couple also let cameras come along to the joyous moment when they heard their sixth baby's heartbeat. Kimberly is talking about her worries and you can hear the person performing the ultrasound say, "well, you don't have to worry anymore." Considering that moment has been a painful one for the couple three times before, allowing America to see it firsthand is pretty brave. It's also extremely touching because it opens the door in a very real way for others to share their own experiences.
Miscarriage is surprisingly common. About 1 in 4 pregnancies ends in a miscarriage, but there's a common misconception that it's a somewhat rare event. That's likely because in our culture we've been conditioned to hold off on making pregnancy announcements until the second trimester in case there is an early loss (miscarriage is less likely after the first trimester). That means that when women and families do experience those losses, it often happens without anyone really knowing. Hopefully, that tide is changing, though, because having support when grieving a miscarriage is so important.
The Van Der Beeks have been married since 2010. They welcomed their first child, Olivia, that same year, followed by Joshua, 7, Annabel, 5, Emilia, 3, and Gwendolyn, 15 months. The family is beautiful and picture-perfect, which makes Van Der Beek using his platform in this way even more meaningful. It's clear that he wants people to know that even though he has this wonderful, happy family, they have also gone through this pain that so many people are familiar with but don't have the opportunity to share.
https://www.instagram.com/p/B2iTckWpScB/?utm_source=ig_embed
After the segment, Van Der Beek and Emma Slater performed the quickstep, which Slater said was the perfect upbeat dance considering his announcement. "Do you know what's really appropriate is we're doing a very joyous dance this week," she said. "We're dancing a quick step and the song is 'Walking on Sunshine' which you are!"
Van Der Beek didn't have the highest score of the night, but he did something a lot more important by allowing people to witness the real fear so many couples feel during a pregnancy after a miscarriage.