Reality Star Breaks Stigma By Sharing Photo Of Baby She Lost
by Sarah Hosseini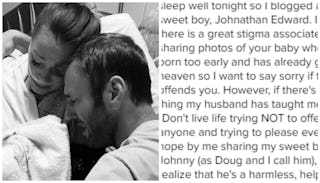 Image via Instagram
"Married At First Sight" star Jamie Otis to women who've miscarried: 'Please know that you're not alone'
The silence surrounding miscarriage and infant loss can be so deafening. But, reality star Jamie Otis is trying to change that. She recently posted a very personal and powerful picture of the baby she lost on Instagram.
October is Pregnancy and Infant Loss Awareness month and part of raising awareness is sharing stories and photos. The image Otis posted on Instagram is beyond heartbreaking, but also incredibly honest and real. Otis and husband Doug Hehner sadly gaze at their son Jonathan Edward, who passed away 16 weeks into her pregnancy.
She writes, "I realize there is a great stigma associated with sharing photos of your baby who was born too early and has already gone to heaven so I want to say sorry if this offends you."
Otis is speaking to the taboo that has pervaded our culture for years. Miscarriage and infant loss makes some people feel uncomfortable. As an result, these losses have been silenced. Conversations and photographs of these miscarried and stillborn babies aren't always welcome by everyone. The couples who go through these tragic experiences become isolated.
Otis is right. These photos of her baby might make some people feel uncomfortable. But the most important thing to remember is that sharing these photos makes her, the grieving parent, feel better. Everyone grieves differently, it's not for us to judge. Her journey of healing should be respected. And if someone's not a fan of the photographs, they can choose to keep scrolling.
Otis continues with her honest post saying, "I hope by me sharing my sweet boy, Johnny (as Doug and I call him), you'll realize that he's a harmless, helpless baby who deserves to be remembered, not hidden away because his image may offend someone."
Sharing in grief is how we heal. Losing a child is one of the most unimaginable and painful experiences. Going through it alone makes it even worse. Not remembering, not honoring, and not acknowledging their existence on this earth (even if very brief) is an awful thing to do to a grieving parent. Furthermore, it's something we absolutely need to be talking about considering miscarriage isn't all that rare.
Otis writes, "…if you've lost your baby early, please know that you're not alone. Unfortunately, 1 in 4 women are affected by this. Yet, no one talks about it."
While the exact numbers of miscarriage are confusing, an article on the March of Dimes website estimated that among women who know they're pregnant, about 15% end in miscarriage. The article noted that as many as 50% of all pregnancies are estimated to end in miscarriage, but again, the exact numbers are unclear because many happen before a woman even knows she's pregnant. With rates like that, it's bewildering to see how society has treated miscarriages and hushed the women that go through them. But, we can stop the silencing.
Otis concludes with a powerful message to inspire others to share, "I hope this can change. I'll be the first in my circle. You be the first in yours. My prayers go out to everyone who has lost their sweet baby too early."
[free_ebook]
This article was originally published on