Jamie Spears' Sister Calls His Treatment Of Britney 'Barbaric'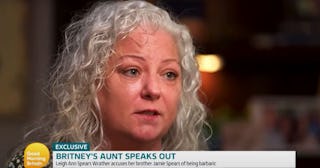 Good Morning Britain/Twitter
Britney's aunt blasted her dad in an scathing interview with Good Morning Britain
Jamie Spears's sister is slamming his treatment of Britney Spears as the pop star fights for the removal of the conservatorship she's been under for more than a decade. Leigh Ann Spears Wrather spoke out about the situation on Good Morning Britain, and she had nothing but harsh words for her brother.
"He's barbaric. I mean, who gets to do that to someone? She was just manipulated and used. And he wants to say he protected her? No, he caged her," she said.
"He swooped in at the perfect moment, when she was at her most vulnerable, to take control." That seems to be an apt description of what happened, considering that Spears was placed under the conservatorship when she was a stressed out, young single mother to two small boys (one with the added stress of being stalked by tabloids and paparazzi constantly).
"I don't know if he can be prosecuted for anything, but he needs to be held accountable," Wrather said. The very first steps of that accountability started last month, when Jamie was removed from Britney's conservatorship by a court order.
It's not totally clear what sort of relationship or level of contact Wrather has with her famous niece at the moment, nor with the rest of the family. But judging by things Britney herself has said about her relatives not being there for her during her darkest years, she might well judge Wrather's comments as way too little, way too late.
Spears hinted at how abandoned she felt by her family in an Instagram post just last week. "If you're like my family who says things like "sorry, you're in a conservatorship" … probably thinking you're different so they can fuck with you !!!! Thankfully I found an amazing attorney Mathew Rosengart who has helped change my life
!!!!" she wrote.
Wrather said, however, that given the complex legal issues involved with the conservatorship, most of the family was helpless to step in. "I don't know what anyone could have done. I know this — if Lynn could have done anything, she would have," Wrather said of Britney's mother.
As for what the pop star wants next, Wrather reiterated what Britney herself has been saying so often lately. "She wants out. She wants away from Jamie. She wants to be free. She wants to get married — she wants to have kids."
As she continues to fight to end the conservatorship for good, fans all over the world are hoping Britney will get the chance to achieve all those dreams — and get back the life that was taken from her for so many years.