Britney's Kids Had A Multi-Year Domestic Violence Restraining Order Against Jamie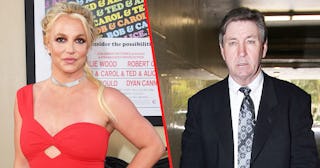 Steve Granitz/AFP/Getty
The restraining order against Jamie Spears was issued for multiple years
There's been a new development in the ongoing fight for Britney Spears freedom against her father's conservatorship, and this time it involves her two sons. A new court filing from Britney Spears' lawyer references a multi-year restraining order issued against her dad Jamie Spears, linked to a 2019 domestic violence charge against Jamie by Britney's children.
As was previously known, the aforementioned restraining order against Jamie Spears happened in 2019 and described an altercation between one of his grandsons, Sean Preston Federline, and their father Kevin Federline. Mathew Rosengart, Spears attorney, added new details to the original report in a new court filing. At the time, a source told People magazine that "there was physical contact that made Sean scared and upset."
Rosengart expands on this in the recent filing, proving the incident was so serious it merited a multi-year restraining order against Jamie.
"In August 2019, the Court issued a multi-year Domestic Violence Restraining Order against Mr. Spears requiring him to stay away from Ms. Spears's children and the father of her children, thereby irreparably fracturing whatever tenuous relationship might have existed," said the filing by Rosengart. This detail showed up in the section of the filing under "Why Mr. Spears' immediate suspension is required" of his conservatorship case.
In July 2021, Lynne Spears, Britney's mom, submitted a sworn statement on why she supported her daughter's conservatorship termination from Jamie. "Of the actions that solidified the failure of my daughter's and Mr. Spears' relationship, the physical altercation between Mr. Spears and the conservatee's minor children, my grandchildren, was perhaps the most appalling and inexcusable," Lynne wrote, "and understandably destroyed whatever was left of a relationship between them."
Rosengart filed a formal petition in Los Angeles asking for Jamie's immediate removal as the financial conservator. While her father has agreed to step down from his role as conservator, there have been concerning behaviors from Britney, including her deleting her Instagram account last week. She has since reactivated it, but fans don't believe the posts are coming from her, leaving them to wonder if more is going on behind the scenes with her father.
As the continued concern over Britney's health and well-being continues, it was announced that the Netflix documentary Britney Vs. Spears would come out on September 28 (just before Britney's next scheduled court hearing on Sept. 29). The documentary will go into more detail about her controversial conservatorship run by her father, but no word if it will touch specifically on the ongoing disputes with her sons.
It's unclear how Jamie could be continued to be allowed to act as her conservator while active restraining orders are in place with her two kids, but here's hoping it will be resolved soon, for everyone's sake.