Jana Kramer Reveals She's Pregnant With 'Rainbow Baby'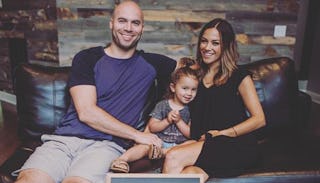 Image via Instagram/Jana Kramer
Kramer is expecting baby #2 in November
Actress and singer Jana Kramer is pregnant and expecting her second child with husband Mike Caussin. Kramer, who has been candid about suffering multiple miscarriages in the past, is over the moon to share the exciting news with her fans of her "rainbow baby."
"Surprise! We have a rainbow baby on the way & couldn't be more excited!" Kramer, 34, wrote on Instagram. "Jolie is going to be a big sister & we're becoming a family of 4!" The One Tree Hill alum sat alongside her husband and two-year-old daughter with a sign that says, "Only child expiring November 2018."
Kramer shared that she's suffered multiple miscarriages in the past, taking to Instagram in late 2017 to say,"Today I am 1-3," (referencing that 30 percent of women miscarry after implantation). She said she was reluctant to publicly talk about her struggle because she didn't want people to feel sorry for her. "I just don't want to feel alone. And I know I'm not," she wrote, sharing a heartbreaking ultrasound photo.
Many women don't feel comfortable sharing their stories because of the emotional toll these losses take. But having the courage to talk openly about it helps all women struggling not feel so alone and isolated. "This unfortunately isn't my first loss," Kramer continued. "When I first found out I was pregnant I wanted to shout it from the rooftop, but I know for reasons like this we have to wait."
Now Kramer can finally share her happy news with the world. "I'm so excited," the singer told PEOPLE about this pregnancy. "We lost in October and then we did an IVF cycle and we lost in February, so I want to be able to be like, 'Hey, I know it's hard but just try to have some hope.'" Kramer has had five miscarriages in all and is now able to enjoy this pregnancy after some serious morning sickness. "I was in bed for like six weeks straight," she said.
She opened up further about becoming pregnant again in her podcast Whine Down with Jana Kramer, telling fans she conceived after tracking her ovulation cycle with the Ava bracelet. "I didn't know I ovulated late and I don't know if it's because my cycles are messed up because of my miscarriages, but it said I ovulated on the sixteenth or seventeenth day so that's what we trusted and I got pregnant," she said.
Kramer's story is one that reminds all of us that even though sharing our struggles can be painful, we need each other in order to heal. "For the women out there who have miscarried in the past and need support and a place to grieve their little one lost or to those in the thick of it like me who are currently grieving and in pain, let us all be there for each other," she wrote. "You don't need to feel alone."
This article was originally published on