A New Janet Jackson Documentary Will Address 2004 Super Bowl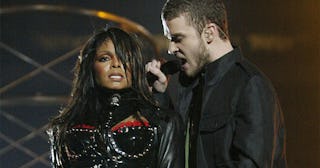 Frank Micelotta/Getty
A new documentary on Janet Jackson (Ms. Jackson, if you're nasty) is in the works
After Janet Jackson received a long-overdue apology from Justin Timberlake (during which he also apologized to Britney Spears) for his behavior after their 2004 Super Bowl performance, A&E Networks revealed that it is collaborating with the Lifetime network on JANET, which will be a two-part documentary on the singer-actor-songwriter-dancer and all-around rock goddess. The film will also serve as a celebration of the 40th anniversary of her first album and yes, it will go there with discussing the Justin Timberlake situation.
A press release from A+E gives all the deets. "As we celebrate the 40th anniversary of Janet Jackson's very first album, this will be the definitive story on Janet Jackson, one of the best-selling and highest-earning artists in music history. Janet has enjoyed immense success but also seen incredible tragedy. She has endured a tumultuous private life in the face of extraordinary public scrutiny. With no stone left unturned, JANET lifts the lid on her private life for the very first time and reveals the most intimate moments of the star ever caught on camera. The two-night, four-hour documentary event joins Janet as her family is going through another extremely difficult time, mourning the loss of her father Joseph, the pivotal figure in the Jackson dynasty."
Then, they bring up the topic we all want and NEED to know more about. "Speaking like never before, Janet also discusses everything including her Superbowl appearance with Justin Timberlake in 2004, the death of her brother Michael and becoming a mother later in life. And with her own romantic relationship having broken down, she starts to look back at her own life and reflect on her fight to the top."
To celebrate this upcoming peek into the life of an insanely talented and captivating woman, please enjoy this picture of Janet Jackson, Lance Bass from *NSYNC and…a ferret?
Last month, fans rallied around Jackson following the Hulu documentary Finding Britney Spears. The film shed light on how men, specifically Justin Timberlake, treated Britney Spears. The conversation has led to an effort to seek out old interviews with female celebrities and look at them with a new lens. Timberlake felt the heat after the public outcry.
"I've seen the messages, tags, comments, and concerns, and want to respond," said Timberlake. "I specifically want to apologize to Britney Spears and Janet Jackson both individually, because I care for and respect these women and I know I failed," he wrote in the Notes app, then posted to his social media accounts.
As part of the national conversation, fans purchased Janet Jackson's album Control from various music outlets, sending it to the number one spot for the first time in 30 years.
JANET, a four-hour documentary, will air over the course of two nights on A&E and Lifetime in early 2022.