Biden Wanted A 'Hamilton'-Style Song About Janet Yellen — And He Got It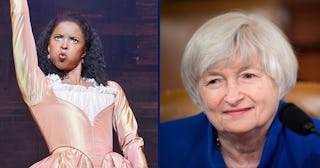 Disney+/BRENDAN SMIALOWSKI/AFP via Getty Images
Move over, Alexander Hamilton; Janet Yellen's in the house
When then-President-elect Joe Biden announced he planned to nominate Janet Yellen for secretary of the treasury (the first woman to hold that office), he joked that Hamilton creator and beloved icon Lin-Manuel Miranda should write a musical about her. Fast forward several weeks and sometimes you do get what you ask for.
"We might have to ask Lin-Manuel Miranda, who wrote the musical about the first secretary of the treasury, Hamilton, to write another musical for the first woman secretary of the treasury — Yellen," Biden said at the time. The former Chair of the Federal Reserve may have not asked herself, but thanks to Dessa, one of the artists who contributed to The Hamilton Mixtape, she's now immortalized through lyrics.
All credit goes to Marketplace who asked Dessa, a member of the hip-hop collective Doomtree, to think about what a song dedicated to Yellen would look like. With lyrics like, "But here comes Yellen with that inside voice/Never mind the mild manner, policies make noise/She's 5-foot nothing, but hand to God/She can pop a collar, she can rock a power bob," you just know it's going to be amazing.
Dessa told Marketplace that she spent a lot of time watching old speeches and going through photographs of Yellen while writing the song.
"I read a lot about her to make sure that she was somebody who I'd like to send up," Dessa said. "And it was really exciting to become a fan of Janet Yellen."
Dessa said she and collaborators Lazerbeak and Andy Thompson drew inspiration from Miranda, and he later said on Twitter that it was an honor to honor Yellen.
The Senate Finance Committee on Friday unanimously approved Janet Yellen's nomination as Treasury secretary and is expected to easily win confirmation. Once she's confirmed, she will not only be the first woman to be Treasury secretary in our country's history, but she will also the first person to have held all three top economic posts — chair of the president's Council of Economic Advisers, chair of the Federal Reserve, and head of Treasury.
"I think both Andy Thompson and Lazerbeak put another ear on the Hamilton Mixtape (shoutout Lin) just to kind of remind themselves how that particular piece of music came together and nod to it as best we could," she said.
The song "Who's Yellen Now?" is now available on Spotify, Apple Music, and other streaming services.
"The three of us who worked on this song … I don't think we've ever had so much fun," Dessa continued. "It was like, how do we get out of this normal rap game and into this [cabinet] appointment niche because it was so much fun to write."