Japan Will Bar International Spectators From The Olympics This Summer
by Christina Marfice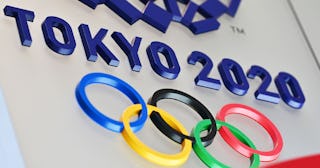 CHARLY TRIBALLEAU/AFP/Getty
The Summer Olympics may look a lot different than expected this year
The Summer Olympics were scheduled to be held in Tokyo last year, but were, of course, postponed because of the global COVID-19 pandemic. Now, it seems that Japan will move forward with the games this summer, but local news outlets in the country are reporting that there will be a big change made for safety: No international spectators will be allowed to attend, and some events, including the opening ceremonies, will take place without any spectators at all.
Two government officials who have knowledge of the Olympics planning told Japanese news outlets about the decision. Prime Minister Yoshihide Suga has previously said that he would announce a decision about spectators by the end of March. Currently, with potentially more contagious and more dangerous coronavirus variants spreading around the world, it's not too surprising that Japan appears to be leaning toward limiting the number of international visitors it receives for the games.
What is a little bit more surprising is that the opening ceremony of the torch relay, scheduled to take place on March 25, will take place without any spectators at all.
"The organising committee has decided it is essential to hold the ceremony in the northeastern prefecture of Fukushima behind closed doors, only permitting participants and invitees to take part in the event, to avoid large crowds forming amid the pandemic," Kyodo News reported.
Sebastian Coe, the president of World Athletics who oversaw the planning of the 2012 Olympics in London, seems to disagree with Japan's decision, though.
"With all the work being done around vaccinations and the huge sacrifices large parts of the world have made over the last year, I would hope that fans (international and domestic) will be able to attend (the Tokyo Olympics), of course it would be better," he told Reuters. "However, if local communities are concerned, then athletes will accept that and it is a trade-off they are prepared for."
Ticket sales for this year's Olympics are expected to contribute $800 million to Tokyo's economy. While that's a pretty huge financial blow to the country, a recent newspaper poll showed that 77 percent of Japanese citizens were against allowing foreign visitors to come into the country for the Olympics. Vaccination efforts in Japan have gotten off to a slow start, and Tokyo is currently under a state of emergency as it battles a third wave of coronavirus infections.