Athletes Are Testing Positive For COVID Before Olympics Even Start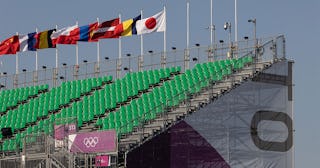 YUKI IWAMURA/AFP/Getty
Japan was already fighting a surge in COVID cases, and now, Olympic athletes who have traveled there for the Games are beginning to get sick
The opening ceremony for the summer Olympic Games in Tokyo is scheduled to take place this Friday. However, Tokyo remains under a state of emergency as it races to curb rising COVID cases among its own population. With no spectators allowed at Olympic events and all players in isolation bubbles, officials insist the Games are as safe as possible — but athletes are seeing outbreaks of cases within their bubbles, testing the strategy that Japan has put in place.
The rise in the prevalence of the delta variant has especially prompted concerns about tens of thousands of foreign athletes from all over the world entering Japan. Many participants are coming from countries where coronavirus vaccines are not widely available yet. Athletes traveling to the Olympics are not required to be vaccinated. And the vaccination rate among Japan's own population is just 21.7 percent after the country has struggled with a slow, fumbled rollout.
Japan has been coordinating arrivals of teams and delegations for months now, keeping athletes in isolation, moving them between hotel rooms and venues where they can practice, and keeping them separated from the general population. But that strategy may already be failing, as a steady stream of athletes have tested positive in the days and weeks leading up to the start of the Games. In all, there have been 55 people connected to the Olympics who have tested positive since July 1, many of them after arriving in Japan. They include members of the South Africa men's soccer team, track and field athletes from Great Britain, a U.S. gymnastics team alternate, and U.S. tennis player Coco Gauff. Most athletes who have tested positive have not been identified by name.
Outbreaks in the isolation bubbles have stoked fears among the public in Japan that cases will spill over into the country's population. Japan has been battling rising cases for months, and the Olympics have become deeply unpopular with the public there, many of whom believe the Games should have been postponed again or canceled outright. Amid the rising negative sentiment, Toyota, one of the biggest corporate sponsors of the Games, has pulled all its ads from Olympics broadcasts. The ads were going to feature Olympic athletes who are sponsored by Toyota.
Japan and its taxpayers have spent about $26 billion on hosting the Games, and with the restrictions that are in place, any economic benefit the country may have seen from tourism and spectators is now gone. However, the International Olympic Committee makes most of its revenue from broadcast rights for the Games, and stands to lose an estimated $4 billion if they were canceled.