People Are Torn On This Jason Bateman And Ryan Reynolds Remake Of 'Clue'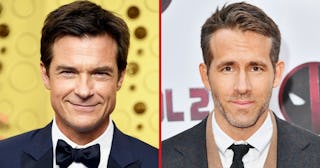 Frazer Harrison/Michael Loccisano/Getty
The 'Clue' remake would also be directed by Bateman
People have strong opinions about remakes. On one hand, it's great to see an old favorite movie or show brought back to life in a new way. On the other hand, to remake a film usually means it has a cult-like following (which means people are very, very protective of it). Such is the case with the announcement that the hit movie Clue is getting a facelift, leaving fans fairly torn on the matter.
Deadline recently reported that the 1985 movie Clue is being considered for a remake. Not only that, powerhouse actors and directors Jason Bateman and Ryan Reynolds will be involved which basically means it will be a hit. In fact, Bateman is set to both direct and star in the remake for Fox/Disney.
The iconic film, which tanked at the box office when it was released but has since built a seriously obsessed following, was based on the popular board game and had stars like Eileen Brennan (Mrs. Peacock), Christopher Lloyd (professor Plum), the hilarious Madeline Kahn (Mrs. White) and Tim Curry (as Wadsworth) on the ticket. It's a movie all murder-mystery lovers should enjoy, so why not bring it into the 21st century?
We'll let the people answer that one:
On one hand, having Bateman and Reynolds team up on anything seems like a pretty good idea to me. If you've ever seen the movie, Game Night, you know how hilarious Bateman can be in a murder mystery (and Ozark fans know just how fantastic his directing can be). And really, Reynolds could star in a movie entirely centered around hemorrhoids and most of us would watch it. On the other, Clue, like Princess Bride and other classics are tough because there's just nothing like the magic of the original.
It would be fun for kids to see a remake, given most love the board game and, if they're anything like mine, hate it when I make them watch any of my favorites from the year 2000 or older because they "look like they are from the Dark Ages." It could get an entirely new generation to love the storyline because it was really one of the greats.
Reynolds made a three-year producing deal in early 2019 for the Deadpool movies, and the news comes just days after Bateman scored a well-deserved Emmy for best directing in a drama series for Netflix's Ozark, proving almost everything he touches turns to gold (ok minus Teen Wolf Too). We'll just have to wait and see if they've got the magic touch on this one.
Rhett Reese and Paul Wernick, who wrote the first Deadpool film are set to script Clue but no release date has been set.