Dad Tearfully Confirms That His Son Was Among California Shooting Victims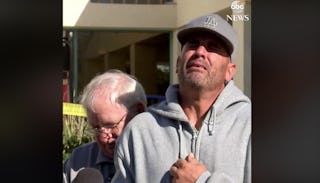 Image via ABC News
Dad confirms his son as one of the victims in our nation's latest mass shooting — and shares his last words to him
In the wake of the horrific shooting early this morning at Borderline Bar & Grill, a Southern California bar, stories of the victims are beginning to emerge. One father just told the press that his son was among the 12 people killed — and his raw emotion in sharing the news will break every parent's heart.
Jason Coffman spoke to media moments after finding out that his son, 22-year-old Cody Coffman, was killed when 28-year-old Ian David Long opened fire on the crowd at the bar's weekly college night. "Only him and I know, how I loved — how much I miss him…Oh, son, I love you so much," he told the assembled press through gut-wrenching sobs.
"His name was Cody Coffman. My firstborn son."
"I talked to him last night before he headed out the door," Coffman said. "First thing I said was, 'Please don't drink and drive.' Last thing I said was, 'Son, I love you.'"
"That was the last thing I said."
A reporter asked what Coffman would miss about his son. He replied, "The companionship that I have with my son.. the companionship that he had with his other two brothers.. this is absolutely going to crush those two boys. This is not going to be easy for a very long time."
"He was the big brother that my kids need," he said, "I have a daughter coming on the 29th of this month and he was so excited to have his first sister and now she'll never know."
"I am speechless and heartbroken," he said. "I cannot believe that it's happened to my family."
Sadly, it's happened to far too many American families — and will keep happening until our nation finally does something about its gun violence epidemic. More families will have to tell the press through full-body sobs how much they'll miss their lost loved one. More cycles of thoughts and prayers will be sent their way. And then it will happen again, unless meaningful action is taken to stop it.