Video Captures Jason Momoa's Surprise 40th Birthday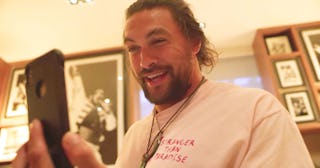 Jason Momoa/Youtube
Jason Momoa takes fans inside his surprise 40th birthday party in London
Your imaginary husband Jason Momoa has a YouTube channel. Did we know that? It's basically a travel blog as he scoots around the world filming movies, doing fan cons, and going to premieres — he also has a video on his channel called "Aquaman's jeans…watch me take my pants off" which we will be bookmarking for later — but his latest video "Inside My Surprise 40th Birthday" is just that and honestly, it's the closest any of us are ever gonna get to attending a party with Momoa, so take it in.
Momoa turns 40 on August 1, but his friends decided to celebrate the actor's big milestone a few days early. The five minute and 21-second video begins with Momoa posing with Aquaman fans at a convention in London. By the way, depending on how strong your Momoa thirst is, he basically travels to fan cons all over the world every weekend and you can literally attend one of them and pay to meet him as long as you pretend to be really into comic book culture and Aquaman and not what you're actually into, which is his face and body and hair and beard and like… you get the picture.
So back to the 40th birthday. In the video, Momoa thinks he's grabbing sushi with a couple of pals to celebrate his early birthday when he walks into a hotel room to find several dozen of his friends yelling "Surprise!"
The party had a mobile Guinness tap (his favorite beer) and a Guinness and Whiskey-flavored cake shaped like Momoa himself climbing a rock.
Momoa's Game of Thrones co-star Emilia Clarke stopped by and for some reason, The Vampire Diaries star Ian Somerhalder did too. We had no idea Momoa and Somerhalder were friends, but the fans on YouTube seemed to think the Clarke, Momoa, Somerhalder trifecta was a very big deal.
Sadly, Momoa's wife Lisa Bonet and their kids Lola and Nakoa-Wolf could not make it out to the fete, though we're guessing he'll celebrate with his family on his actual birthday on Thursday.
"My piece of shit friend knows I hate surprises but he keeps getting me and I fucking love/hate him every time he does it," Momoa wrote on Instagram. "Well I'm almost 40 and all my friends in London showed up to surprise me. I love you all."
At some point during the party, Momoa and his bros tore off their shirts and treated us to their, ahem, dad bods.
https://www.instagram.com/p/B0fb0HfhKxf/
…we'll just leave this here for you. Happy birthday Jason Momoa!
This article was originally published on