Jason Momoa As A Christmas Stripper Is The Only Present You Need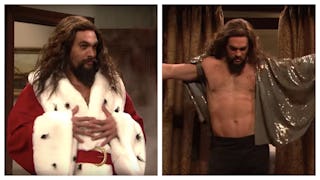 Image via YouTube/SNL
It's like a Christmas version of 'Magic Mike' and you need to see it
Jason Momoa was the host of SNL last night, and though there were plenty of noteworthy moments — we've gone ahead and done the Lord's work by finding the best one to share.
Behold: Jason Momoa as a sexy, Christmas ghost stripper. In GIFs. (You're welcome.)
Momoa was on the show to promote his latest film, Aquaman, and there were plenty of references to his superhero status, Khal Drogo, and just his overall stature and physique. But the gift that keeps on giving came in the form of a sketch where he played an "extra" ghost from A Christmas Carol.
Let's just say this is probably not what Dickens ever had in mind.
Scrooge wakes up on Christmas morning to a visit from a fourth ghost. Though he's cheerful, learned his lesson, and no longer King of the Humbugs, he's visited by an extra ghost just the same — apropos of absolutely nothing.
This ghost is extra, alright. Just check out that entrance, will you?
Turns out he has a flair for drama and his heart set on seductive dancing. Scrooge might not be here for it, but we sure as hell are.
"Are you sure you have the right address?" Scrooge asks, bewildered. That's okay, Ebeneezer, not every Christmas ghost is for you.
This one is for us.
The best part is when the Cratchet family enters Scrooge's bedchamber, and Momoa's ghost assures Scrooge they "can't see" him — that's not exactly true. Kate McKinnon as Tiny Tim is truly the icing on the cake here, too: "Mr. Scrooge, who's this well-built ghost that's being so extra?
It's worth noting that while Momoa's British accent leaves a lot to be desired, nothing else does. Nope. Nothing. Everything else he does? Full-on desirable.
Jason Momoa's striptease suddenly gives Tiny Tim the power to walk without a crutch. Which I totally get, because it gave me 20/20 vision and cleared up my skin.
God bless us, everyone. Truly.
This article was originally published on