People Are Shaming Jason Momoa For His 'Dad Bod' Because Everything Is Terrible
by Valerie Williams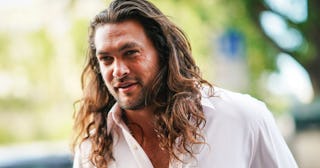 Edward Berthelot/GC Images/Getty
Jason Momoa's sexy beach pic prompted some very crappy body-shaming from the internet
The internet can be a terrible hellscape with the only relief found in the occasional cute puppy video, so it's probably not surprising to hear that even Aquaman takes his fair share of social media crap. Yes, we're sad to report that the internet is currently criticizing Jason Momoa's "dad bod," because heaven forbid he relax a little between film projects and look almost slightly like a normal human man instead of an actual god for a couple of weeks.
US Weekly shared a topless paparazzi shot of Momoa while he was relaxing on the beaches of Venice with his gorgeous wife, actress Lisa Bonet. The publication was apparently innocently thinking that fans would just be super pumped for the gift of a shirtless Khal Drogo in his down time, and that's where they would be wrong. People. Are. Jerks.
After feasting their eyes on this 6'4″ environment-crusading, ultra-supportive stepdad, some people only had negative things to say about his lack of 6-pack. Which, I would argue vigorously, is actually very much still there. My oh my, he is a whole damn snack. But yes, people are the worst and had to let him know that he's gained a few, for reasons? I guess?
Wow, how about we leave him the heck alone while he vacations with his beautiful wife and lives a little?
Even if Aquaman himself did slack a tad on his crunch routine and eat a burger or two, holy smokes, LET THE MAN LIVE. He's not here for us to ogle (well… maybe a little) and he's under no obligation to remain at 2 percent body fat at all times for anyone.
Besides — look at him. LOOK. AT. HIM.
We only barely deserve him, honestly. Clothed or not.
It's not acceptable to body-shame anyone: actresses, actors, regular people you see in your regular life, your spouse or child — never. Ever. Even Jason Momoa is human and on some level, it's gotta sting a tad to see people feeling some type of mean way about your torso in the filming off-season. Can we all just be cool already and simply appreciate the blessing he is to our world? He already shaved off his beard because we suck at recycling — don't make him swear off removing his shirt because people can't STFU about his (totally made-up) lack of abs.