Jason Momoa Performs Haka Dance During 'Aquaman' Premiere -- And WHEW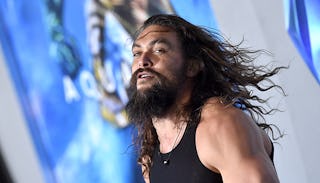 Image via Axelle/Bauer-Griffin/FilmMagic
Fetch your smelling salts and watch Jason Momoa perform the haka
Fresh from his SNL striptease, Jason Momoa is here to bless us with more unintentionally sensual content. During the premiere for his new movie, Aquaman, Momoa performed the haka (an ancient ceremonial dance of the Māori) alongside his children and local New Zealanders he met while filming the movie.
During last night's premiere of Aquaman, Momoa kicked off the festivities with the haka, and it's honestly just really beautiful.
His 11-year-old daughter Lola and 9-year-old son Nakoa-Wolf joined their dad and the members of the cast as they danced.
Though that's indeed adorable as heck, the best part is arguably when Momoa snapped a trident RIGHT IN HALF at the beginning of the dance.
Like, we need a minute.
According to NewZealand.com, the haka is a type of ancient Māori war dance traditionally used on the battlefield, as well as when groups came together in peace. It's a display of a tribe's pride, strength, and unity. The words of a haka often poetically describe ancestors and events in the tribe's history. If you've ever seen more than one Rugby match, you've probably seen the haka.
Also worth mentioning? His family absolutely slayed on the blue carpet. They're simply gorgeous and adorable together.
During an interview earlier this year on set, Momoa said he was honored to portray Aquaman. "There are so many brown-skinned kids who are going to grow up and go, 'Yeah, we love this'." Momoa's Hawaiian heritage comes into play in the movie as well, as Aquaman has Polynesian-inspired upper body tattoos. "A whole lot of our [Hawaiian] gods are water gods," he explained.
Haka is still performed today during Māori ceremonies and celebrations to honor guests and show the importance of the occasion. This includes family events, like birthdays and weddings.
And Hollywood movie premieres. Which is a blessing to us all, really.
This article was originally published on