Jason Momoa Retelling His Daughter's Birth Story Is A Straight-Up Action Movie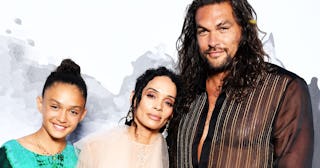 Daniele Venturelli/Getty
Jason Momoa details the action-packed day when he almost missed his daughter Lola's birth
In a new interview with Esquire, Jason Momoa detailed the story of how he almost didn't make it in time to see his wife Lisa Bonet give birth to their now 12-year-old daughter Lola, and the insane story should be its own action movie. Momoa is a doting dad, but one day 12 years ago when he was living in Vancouver while filming the series Stargate Atlantis and Bonet was at home in Los Angeles and pregnant with their first child, Bonet's water broke earlier than expected while Momoa was fast asleep in a different country.
Momoa told the story to Esquire as they drove past an apartment in Vancouver where he was living on that fateful day.
"It was the hottest day, July 20," Momoa says of the day while pointing at the apartment where he lived at the time. "There was no air-conditioning in these places, so I was sleeping in the front window. I missed about seventy calls. And I woke up and freaked the fuck out."
"So I call the Stargate office, and the badass producer is there, and he's like, 'Jason, get in the fucking car, get to the fucking airport!'" Momoa recalled.
So he goes to the airport and "there's one seat left on the fucking back of the plane…and I tell the lady, 'Listen, I'm having a baby — make sure everyone sits down so I can get off the plane first.'"
Momoa runs off the planes and remembers passing by the actor Benjamin Bratt, and jokingly recalled: "Benjamin Bratt was on the plane! He was in first class. And when I ran past him, I'm like, Oh, shit, Benjamin Bratt! And he was like, 'Go, go, go.'"
So now he's off the plane which he describes as "barreling out of the terminal, like the Predator, like, 'GET OUT OF THE WAY!'"
"I'm running through the airport, and I get in the car. I go, like, 'Dude, I don't care, run all the lights…I'll pay for everything.' And I made it in the nick of time. I had about two hours with her in the tub, and my baby girl was born.
That was in 2007. Now the couple has two children (Lola, 12, and Nakoa-Wolf, 10), plus Momoa is step-dad to Zoë Kravitz, Bonet's daughter with Lenny Kravitz and this happy blended brood seems to be doing the co-parenting thing with ease.