Jason Momoa Built A Motorcycle With His Kids And It's Adorable AF
by Christina Marfice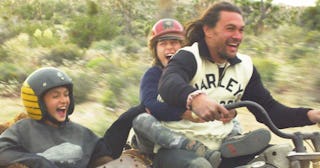 Jason Momoa/Youtube
This Jason Momoa video will have you reaching for the tissues and hugging every dad in your life
Jason Momoa has had a lifelong dream: To build a Harley Davidson motorcycle from the ground up, using a motor he's had since he was just 19. Now, that dream has come true, only even better — Momoa built the bike with his two kids by his side, teaching them every step along the way.
He documented the entire process in a video he published on Father's Day and dedicated to the two adorable kiddos, 11-year-old Lola and 10-year-old Nakoa-Wolf. While Momoa and his wife, Lisa Bonet, have always been extremely private about their kids and family life, Momoa explains in the video that he wanted to document this entire process because it's such a special memory for him that he wants to keep forever.
In the video, there are clips of Jason Momoa, with Lola and Nakoa-Wolf always by his side, building different parts of the bike. It's all interspersed with stories from his life about his love of motorcycles, which began when he was around the same age as his kids are now, and why he's always dreamed of doing a project like this with his own children.
"It's just really my story. It's something that's very dear for me. And just being able to do that with my children… I never really grew up with that," he says. "I was from a single mother who taught me many, many, many things but I didn't grow up with a father-figure who I was wrenching on cars with."
That's not to say women can't work on bikes — Momoa talks about his earliest memory of a motorcycle being his mom riding one, and how powerful she looked when she did it was a big part of why he fell in love with motorcyles, and Harley Davidson bikes in particular. But he cultivated that love, and learned how to build a bike of his own, from all the male influences in his life — something he's glad to now be able to pass on to his own kids.
"The great thing is all my friends were fathers, I didn't have a dad around all the time but it's my buddies and uncles who raised me," he says. "The things I learned from them and what we passed on to each other. I've learned so much from my friends."
The bike that Momoa built will be passed on to his kids someday. He calls it a "family heirloom," and we're seriously swooning over what a sweet tradition and memory this is.
Sidenote: Momoa is also an amazing stepdad to Monet's daughter with Lenny Kravitz. He supports her in her projects and makes no bones about how much he loves her.
Oh, and this sentimental sweetheart is also very close buds with his wife's ex. We cannot stop swooning over this loving family man.
Building that motorcycle with his kids was obviously about a whole lot more than simply teaching them mechanics. "Those are the heirlooms. All I have is being at home and being a papa. I don't want them to know me as my job. I just wanted to build a Harley with my kids. And I'm really happy my wife let me do it because ultimately she's the boss," Momoa says. "The biggest thing I'm trying to do for my children is just let them have their imagination, their creativity and to let that flourish. I hope they get to see I'm striving for my dreams and building new ones always."
What a perfect Father's Day gift, for Jason Momoa and his kids.