Jason Momoa Got Matching Rings For Himself And His Wife's Ex Lenny Kravitz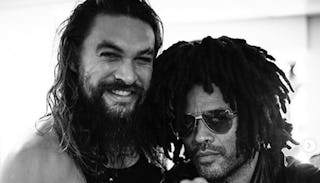 Image via Instagram/Jason Momoa
Because he's Jason Momoa, that's why
Jason Momoa could coast through life doing nothing more than existing because hello, look at him. He's Khal Drago. He's Aquaman. He's Jason Momoa and that's literally all he has to be to succeed in life.
Instead of resting on his (extremely muscular) laurels, he's actually a pretty fantastic human being, as he proved by showing off the matching rings he bought for himself — and his wife's ex-husband.
That's right — instead of there being some awkward tension between Momoa and singer Lenny Kravitz, who was married to Momoa's wife Lisa Bonet back in the early 90s, they're buds. Like, really good buds, apparently. Dudes don't go around wearing matching skull rings when they're merely cordial.
"I'm a huge fan of the artists I meet on instagram love spreading the aloha. I got @lennykravitz a present made by @leroyswoodentattoos amazing bone skull ring. Check him out insta. Mahalo lenny for coming to support me on @nbcsnl aloha j," Momoa writes.
So let's break this down — Kravitz was there for Momoa's first time hosting Saturday Night Live, so the matching rings appear to be a token of appreciation. Beyond that, Momoa's shouting out the crafter who made the rings, which is likely driving the guy's business through the freaking roof.
He's a shimmering, warrior, aqua angel of some sort and we're just over here drooling.
And as if our hearts weren't already totally warmed by Momoa's adorable gesture, Kravitz also took to Instagram to show even more support for his "brother." We're melting. End of story.
They're all one big, happy family and it's amazing. An interview in 2015 with Kravitz and Bonet's adult daughter, Zoe, revealed exactly how happy. "My dad and my stepdad get along really well, and my dad loves and is close with my brother and sister," she told Ocean Drive magazine. "It's really beautiful."
It really is. Check out his support of his step-daughter…
…and her support of him.
Our hearts can hardly take the sweetness.
Blended families can be challenging, no question, but seeing the love between the Kravitz and Momoa clan is enough to give us all the warm fuzzies.
This article was originally published on