Jason Momoa Posts Apology To Chris Pratt After Calling Out His Plastic Water Bottle Use
by Christina Marfice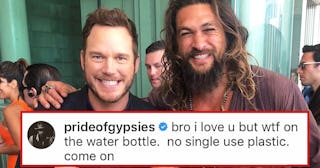 Jason Momoa/Instagram
Jason Momoa just apologized for his role in #WaterBottleGate2019
Who knew the biggest drama of 2019 would happen on Instagram, between mega celebrities, and be all about plastic water bottles? After a tense few days of online exchanges, Jason Momoa has publicly apologized to Chris Pratt for his role in what we are calling #WaterBottleGate2019, even if no one else is calling it that.
It all started earlier this week when Pratt posted a seemingly innocent (if slightly thirst trappy) photo to his Instagram, showing him leaning casually against a treadmill and staring moodily off into the distance, as Pratt is wont to do.
https://www.instagram.com/p/B5nhParp7z7/
Innocent photo, right? Wrong! The problem is right there in Pratt's hand: A single-use, plastic water bottle. Aquaman himself was not about to let this go without calling it out.
So Momoa took to the comments to issue Pratt a gentle reminder about the responsibility we all share to care for our planet.
"Bro I love u but wtf on the water bottle," he wrote. "No single use plastic. Come on."
As you can see from the nearly 1,200 replies, his comment blew up a little bit. Even though that was a completely reasonable call-out, people got angry, as people on the internet are wont to do. Even though Pratt replied and agreed, the backlash had begun and somehow, Momoa became the bad guy in this internet drama, because it is 2019 and everything is terrible/nothing makes sense.
And so, even though Momoa was 100 percent in the right because no one should still be using single-use plastic unless they have no other option, he was forced to submit this public apology. Naturally, he did it on Instagram, the battlefield where this entire drama played out.
https://www.instagram.com/p/B5o3uAyg6Y3/?utm_source=ig_embed
"BRO you know my children and I are madly in love with you and I love everything you do," Momoa wrote alongside a photo of himself and his kids with Pratt. "I'm sorry this was received so badly today I didn't mean for that to happen. I'm just very passionate about this single use plastic epidemic." He also encouraged Pratt to create a reusable water bottle to sell on Amazon.
After watching this drama unfold, we should all just take a moment to brush up on Momoa's activism, which has included speaking at the United Nations on behalf of Hawaii and other island nations, and launching a water company called Mananalu, which sells water in cans that are 100 percent recyclable.
This article was originally published on