Zoe Kravitz Is The New Catwoman And Jason Momoa Is The Proudest Step-Dad
by Julie Scagell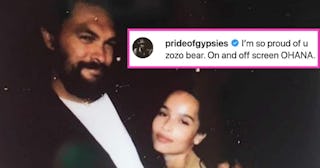 Jason Momoa/Instagram
Jason Momoa is clearly a proud dad and wants Zoe Kravitz to know it
Just when you think Jason Momoa couldn't get any more perfect, he goes on social media to gush about one of his kids and you fall that much more in love. Momoa couldn't contain his excitement when congratulating his step-daughter Zoë Kravitz on Instagram after the Big Little Lies actress got cast to play Catwoman in the upcoming The Batman flick.
"I'm so proud of u zozo bear. On and off screen OHANA," the Aquaman actor wrote next to a picture of the pair. "DC WB ohana Lola and Wolfies big sister is CAT WOMAN."
It was recently announced that Kravitz, daughter of Lenny Kravitz and Momoa's wife, Lisa Bonet, grabbed the coveted role of Selina Kyle, better known as Catwoman. "Unbelievable so freaking stoked," Momoa continued. "Your going to have so much fun Aloha P bear."
Kravitz is set to start as Catwoman alongside Robert Pattinson in the film The Batman alongside Robert Pattinson. She's starred in films like X-Men: First Class, Mad Max: Fury Road, and portrayed Catwoman in the hilarious The Lego Batman Movie, so she's basically perfect for this role.
Kravitz loved the shoutout from Momoa, commenting, "LOVE YOU PAPABEAR. love that aquaman and catwoman spend the holidays together from now on."
Even Wonder Woman's Gal Gadot got in on the congratulations, and it doesn't get much cooler than that.
The Catwoman role has previously been played by some badass women, including Michelle Pfeiffer, Halle Berry, and Anne Hathaway, so she's got some pretty big shoes to fill but there's no doubt she'll rock those cat ears.
Momoa and Kravitz have always been close and are a model co-parenting family. Lenny Kravitz told The Times last year, "We took the time so that we could become best friends again," he says of his relationship with Bonet. "Our families are blended. I love her husband — he's like a brother to me — and I love the kids. It's beautiful, but it takes work."
It seems Momoa agrees, posting a photo on Instagram of himself with Kravitz showing off their matching rings.
Kravitz is coming off her second season of HBO's Big Little Lies, where she plays badass Bonnie. She also has the Hulu series High Fidelity coming out later this year, so she's going to be one busy cat for the foreseeable future.
According to Variety, "pre-production on the Warner Bros.-DC Comics pic is expected to start this summer." Though no official filming date has been set, The Batman is scheduled to hit theaters on June 25, 2021.