Jason Priestley Remembers Luke Perry In Emotional Tribute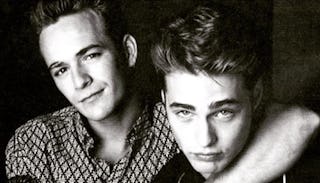 Image via Jason Priestley/Instagram
Jason Priestley remembers friend and Beverly Hills, 90210 costar in moving Instagram post
Luke Perry died on Monday after suffering a stroke and ever since the devastating news broke, costars and family have taken to social media to share their memories of the Beverly Hills, 90210 and Riverdale star — and their grief at his sudden passing. 90210 costar Jason Priestley recently posted his thoughts in the wake of his long-time friend's death, and they're every bit as heartbreaking as you'd think.
"It's taken me a couple of days to figure out how to write this… My dear friend of 29 years, Luke Perry, was one of those truly special people who really cared," he writes.
Priestley says that Perry's death being so sudden — and untimely — is making it difficult for his loved ones to process. "Luke was not only a star, he was an incredibly bright light that was extinguished far too soon… and that is why I, and so many others, are in so much pain today."
"If you had the good fortune to know Luke, or to have ever crossed his path, I know you are sad today as well… the candle that burns twice as bright only burns for half as long… you burned oh, so brightly Luke… Goodnight Sweet Prince," he concludes.
Is your entire heart now broken? Join the club.
Priestley, who played good guy Brandon Walsh on 90210 to Perry's bad boy Dylan McKay, is one of several former co-stars to share their sadness at Perry's passing this week.
Ian Ziering took to Instagram multiple times to wish Perry well after news of his stroke and then mourn his passing.
"Dearest Luke, I will forever bask in the loving memories we've shared over the last thirty years. May your journey forward be enriched by the magnificent souls who have passed before you, just like you have done here for those you leave behind. God please give him a seat close to to you, he deserves it," he writes.
Ziering didn't just share his grief over losing his good friend, he also told an adorable story about Perry's thoughtfulness during a maternity shoot Ziering was in with his wife.
He also spoke out in support of Perry's kids, Jack and Sophie.
90210 costar Shannen Doherty similarly used Instagram to send Perry get-well thoughts after his stroke and to tell the world just how much she would miss her friend.
"Yesterday morning I got a phone call that devastated me. I'm struggling with this loss and am having a hard time with my thoughts. But, my heart goes out to his family and friends who were blessed by his light in their (and mine) lives. Processing this is impossible right now," she says.
The actress later told PEOPLE, "I am in shock. Heartbroken. Devastated by the loss of my friend. I have so many memories with Luke that make me smile and that are forever imprinted on my heart and mind… Luke loved his family. He raved about his kids and how proud he was of them. He showed me videos of the often. They were his heart and for him, his biggest accomplishment."
90210 costar Jennie Garth told the mag, "My heart is broken. He meant so much to so many. Such a very special person. I share my deep sadness with his family and all who loved him. Such a terrible loss."
Tori Spelling also spoke out about losing her former costar. "I'm in utter shock and heartbroken… I'm saddened for his kids whom he adored beyond words. He was so proud of Jack and Sophie."
There's not much comfort when the world loses a person who was, by each and every account, big-hearted, kind, and completely beloved. At least his kids and family will always be able to see how loved he was and how many lives he touched.