You'll Want To Help This Dad Get His Stolen Cooler Back
by Mike Julianelle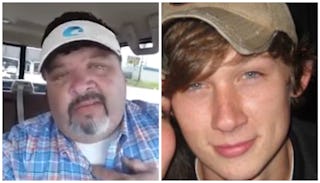 Image via Facebook
Father offers reward for stolen cooler for heartbreaking reason
When you're a parent, the thought of losing a child is unbearable. Even typing that sentence made me uncomfortable; it's just not something any parent wants to think about. But it happens, and when it does, you'll do anything you can to hang onto the photos and keepsakes and special mementos that remind you of your child.
Which is what makes this story of a man who had a cooler stolen from him so painful.
Alabama dad Jason Rogers lost his 19-year-old son Skyler in a traffic accident in April of 2012. A few days after his son died, some of Skyler's coworkers brought a YETI cooler to his parents, and told them that Skyler had won the cooler as part of a YETI promotion at his job, and that they wanted his parents to have it.
It may seem like small consolation, and I'm sure in the days, months, years immediately following Skyler's death, it was. But over the years, the cooler has become part of the way Jason and his family hang onto their memories of their son, celebrate his all-too-brief life, and keep him as part of theirs. They fill it with beer and take it with them on boats and to parties, and call it "drinking beers with Skyler."
"He can't be there, but that's a little bit of him that's there with us," Jason says in the video, posted on Facebook, in which he offers a $500 reward – for a cooler he got for free – and pleads for its return. No questions asked.
The cooler was stolen at the Fairhope American Legion Hall on July 4th, and in the aftermath, Jason set up a Facebook group to help people in Baldwin and Mobile counties find items that have been stolen from them. Understandably, people have flocked to aid in the search for the cooler, upping the reward to $1450, 25 cases of beer, and a new YETI cooler to replace the special one when they return it.
Many of the comments on the post include people adding to the reward:
"I own OUTLAW BBQ in russellville AL and I will personally feed you for the next six months of your life to just understand this man and his sentimental value to this cooler all you haft to do is return it and give home something he cherishes back so he can have a nice of his some life back!! 256-277-5113"
"I own Stephens Auto Glass in Birmingham Alabama. I will give ANYONE that gets this Man his cherished Yeti back free windshields for YOUR personal automobile for the rest of your life! It may seem silly to some people, but this is an un replaceable sentimental memory of his sons life! Stephens Auto Glass: 205-545-8688"
"Mr. Rogers, my husband & I own Integrity Tax & Business Solutions in Birmingham. We will contribute to the reward 2 years of free tax services for the individual that helps bring your sons yeti cooler back to you! Sharing this post from Birmingham, sending you & your family ((hugs)) & 🙏🏻 205-641-TAXX"
Even if he doesn't get the cooler back, hopefully the outpouring of empathy and support Jason Rogers is receiving – on Facebook, no less! – is some consolation.
It may seem like a cooler is an easy thing to replace, but when it's tied to the memory of a beloved child, it takes on far more importance than a mere place to store cold drinks. Here's hoping the Rogers family is able to retrieve their cooler, and with it, some peace of mind.
This article was originally published on