Dad Poses With Gun In Daughter's Prom Photo And Twitter Isn't Having It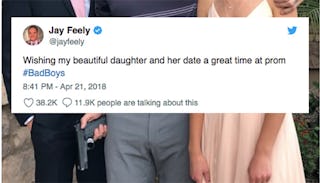 Image via Twitter/Jay Feely
Former NFL player Jay Feely is feeling the heat from Twitter users about his daughter's prom photo
It's officially prom season for high-schoolers all across the country. For dads like Jay Feely, it's "threaten your daughter's date with the ol' shotgun joke" season. Maybe he doesn't realize his daughter has agency over her own body and dating decisions? Or that it's only been two months since the worst school shooting in U.S. history?
Regardless of the fact that it's supposed to be a "joke," the whole thing is very… UGH.
Former NFL player Jay Feely took to his Twitter page to share a photo of himself posing with his daughter and her prom date while holding a firearm — apparently in a nod to the movie Bad Boys 2.
There's a lot going on here. First, there's the fact that Feely (and lots of other dads with daughters, frankly) apparently feels his daughter's sexual agency somehow impacts his own masculinity and that he has a right to claim ownership of it. Joking or not, this is just not OK. Neither is using a gun for laughs in a photo with two high school students.
Of course, there are plenty of "relax, it's a joke, quit being offended" responses. But a majority of the reactions to this photo — which quickly went viral — are of the "WTF, dude?" variety.
https://twitter.com/jetpack/status/987895488241422336https://twitter.com/jetpack/status/987927501539131392
There's also no arguing that this isn't exactly a solid representation of responsible gun ownership.
Many people mentioned if the boy in question was their son, they'd be upset by seeing this photo.
https://twitter.com/jetpack/status/987905604495859713
It's difficult to look at a photo like this and see "harmless humor" after the Stoneman Douglas massacre. And in 2018, can we all just please realize that the whole Daddy Protects Daughter's Chastity thing is kinda gross?
Dads out there, if you're looking for tips on how to handle prom season while simultaneously having a daughter of age to attend prom, be like this guy:
Following the backlash to his original post, Feely shared an update on the photo.
This article was originally published on