Sorry, Everyone, This Denim Speedo Is Here To Ruin Your Summer
by Christina Marfice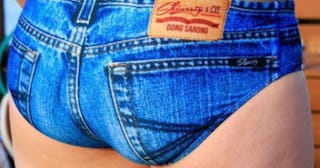 Image via Shinesty
The jeado is what summer nightmares are made of
Some people just really love their jeans, and we get it. They're a classic, stylish and versatile, able to be dressed up or down. The only problem is when summer rolls around, and it's too hot to cover up your gams. Enter the jeado, which is here to solve that problem, and also give you a summer full of nightmares.
The jeado is, unfortunately, exactly what it sounds like: A jeans speedo. You know, for when your jorts need to be a little jorter. Or a lot jorter. A lot, actually.
Sure, this is a summer trend that no one ever asked for, but that goes for a bunch of summer trends. Remember when Ugg released a line of fluffy sandals so you could rock those in summer, too? Bust those babies back out, because they're gonna look great with your jeado.
If you must, jeados are currently being offered by online store Shinesty. They're not actually made of denim, unfortunately, but are made of a more water-friendly polyester and spandex blend with a denim print that actually looks a lot like real jeans. They come in the classic blue jeans style, or you can get them in a more vintage-y blue or black "assid wash" (you cannot make this stuff up, folks). From the product description, you can tell that Shinesty is really leaning on the fact that its target audience here is people who have not one fuck to give about what other people think about them.
"They say jorts are the above-ground pool of the shorts world. We'd be inclined to agree," it reads. "Our denim print swim brief, also known as the Jeado, also known as the Daytona Dong Sarong is just like that, except it is the above-ground hot tub of the swim brief world…or something like that. It is like eating a bag of chips in church. Everyone looks over at you with disgust, but deep down they want some too. And if you're really risky you'll combine those last 2 sentences, eating a bag of chips in church while wearing this denim swimsuit. You'll probably get tossed out, but you'll look and taste good doing it. *These should be paired with caterpillar-style mustaches for optimal results."
Please, we beg of you, do not wear these to church, whether you're eating chips or not. We're all for loving yourself and your body, but we gotta draw the line somewhere.
And don't worry, ladies — if you're feeling left out of this trend for some reason, Shinesty also offers denim-print swimsuits in bikini and one-piece styles. They're not as, shall we say, visually shocking as the speedo offering, but what can you do? Sometimes the need to have your butt fully covered in public comes first, and that's OK.