'You Guys Paid For All This': Jeff Bezos Thanks Amazon Employees For Space Trip
by Valerie Williams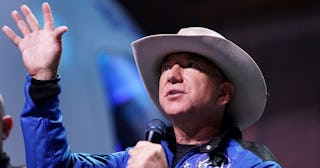 Joe Raedle/Getty
In a post-space ride press conference, Jeff Bezos thanks Amazon employees and customers for making his 15-minute trip possible
Welcome to our dystopian nightmare where a viral plague has upended life as we know it for the last 18 months but two billionaires have still managed to travel to space in the same two-week period. While America continues to struggle with a new resurgence of COVID-19 cases (thanks, delta variant) the country's wealthiest dudes have continued on with business as usual. If you'd like an example of the very richest reaching new heights (literally) while us peasants keep on keepin' on, allow me to direct you to Amazon founder Jeff Bezos as he thanks all the little people who made it possible for him to fling himself into space earlier today.
In what was probably just a very crappy and poorly executed joke, Bezos told the crowd at a press conference after coming back to earth on the Blue Origin's New Shepard rocket that his feat only happened because of his employees and our addiction to Prime. "I want to thank every Amazon employee and every Amazon customer because you guys paid for all this," he said, the crowd laughing in response. "So seriously, for every Amazon customer out there and every Amazon employee, thank you from the bottom of my heart very much. It's very appreciated."
Sure. I'm positive every Amazon driver and warehouse employee only taking one pee break per shift is just thrilled to have played a part in launching Bezos to the moon. Well. Not quite the moon. Artistic license, y'all.
Of course, plenty of folks noticed the bizarre comment and took to social media with their thoughts.
Bezos was also sure to thank the residents of Van Horn, Texas, the town where his historic space ride launched. Little factoid here — 29.5 percent of Van Horn residents are living below the poverty line. Just saying.
Obviously, he said it to be funny but honestly, it's just depressing because it's true. This man was able to do a once-in-a-lifetime thing today because he has more money than he could use in one million lifetimes and that's because of loyal customers like us. Amazon employees have famously pissed in bottles due to lack of breaks and the company has been criticized for not doing enough to keep essential employees safe during the pandemic. All the while, Bezos has only increased his already outlandish wealth as folks who stayed home to avoid COVID ordered more items from the internet retail giant than probably ever before.
I'm just going to pretend that my Prime dollars all went toward sending Wally Funk to space.