Eight Victims, One Town, No Convictions: The Unsolved Story Of The 'Jeff Davis Eight'
by Kristen Mae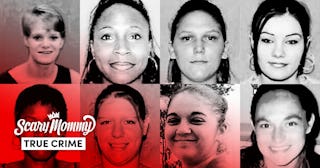 Scary Mommy and FBI
It was May of 2005 when the first of the so-called "Jeff Davis Eight" was found. The man who discovered the body was fishing at the time, and at first thought it was a mannequin floating near the Grand Marais Canal bridge where he'd cast his line. But, "I saw flies," he said, "and mannequins don't attract flies."
Law enforcement used fingerprints to identify the woman as 28-year-old Loretta Lynn Chaisson Lewis, a local sex worker, and found no leads to point them to who may have killed her.
Lewis would not be the only victim. Over the course of the next four years, seven more women would be killed in similar fashion — Ernestine Marie Daniels Patterson, 30; Kristen Gary Lopez, 21; Whitnei Dubois, 26; Laconia "Muggy" Brown, 23; Crystal Shay Benoit Zeno, 24; Brittney Gary, 17; and Necole Guillory, 26.
Are the Jeff Davis Eight the work of a serial killer?
All the victims would share bizarre and improbable similarities, from their youth to their involvement in sex work to their drug addiction to the people with whom they associated. They all interacted with the same shady characters and apparently talked to the wrong people — sometimes law enforcement — about what they knew about prior killings, which, apparently, was a lot.
But it wasn't until December 2008, after seven women had already been slain, that a task force composed of federal, state, and local law enforcement agencies was brought together in an attempt to finally catch the person responsible for the murders. Authorities told the public they were likely looking for a serial killer.
That's when the media descended upon Jennings, a town of only 10,000 people. Journalist Ethan Brown arrived in 2012 to begin his own investigation, which culminated in a book deal and a Showtime docuseries called "Murder in the Bayou" that aired in 2019. Brown's persistence could be credited with much of the continued interest in the case, though three years after his documentary, the killer still hasn't been found.
Journalist Ethan Brown's Investigation
Brown makes a compelling case against the notion that the killings are the work of a single serial killer. The more he dug into the case, the more misconduct and corruption he uncovered within local law enforcement — the same law enforcement participating on the task force supposedly assigned to find these women's killer.
"It should have been obvious all along that these deaths were not the handiwork of a serial killer," Brown wrote in a 2014 Medium article. "According to the FBI Behavioral Analysis Unit's own research, serial killings typically involve 'strangers with no visible relationship between the offender and the victim.' The women themselves all knew one another intimately."
Kristen Gary Lopez and Brittney Gary were cousins. Brittney Gary and Crystal Benoit had been roommates. They had all engaged in sex work at the same seedy motel in Jennings. All but one of them, Ernestine Patterson, had been involved with an infamous local pimp and strip club owner named Frankie Richard. At one point, Richard was actually charged in one of the killings, but police dropped the charges when witnesses' statements conflicted and evidence was mishandled. Two other men were charged with killing Ernestine Patterson, but charges against them were also dropped due to mishandling of evidence. Law enforcement couldn't seem to get it together on these cases.
What's most disturbing, though, is the frequency with which these women would offer up information to law enforcement about a prior murder and then wind up dead themselves. Brown's investigation revealed that every one of the eight victims were informants regarding the local drug trade.
Were the cops themselves involved?
Perhaps the most disturbing thing Brown unearthed in his investigation of the Jeff Davis Eight is the number of local residents pointing to law enforcement as being responsible for at least some of the murders. Necole Guillory, the last victim, allegedly told her mother it was the police killing the girls. She celebrated her 27th birthday only reluctantly, reportedly telling her mother, "It doesn't matter — I'm not gonna be here." She placed her four children with relatives. The strip club owner, Frankie Richard, told Brown, "Necole knew a whole lot about a whole lot."
Relatives of the other victims shared similar stories. The fifth victim, Laconia "Muggy" Brown, apparently told one of the witnesses from the task force that "three police officers were going to kill her." Each of the victims spent time in the local jail and reports note that jailers in Jefferson Davis Parish often trafficked female inmates — including some of the victims — for sex. Was law enforcement trying to cover that up too?
Or were the cops just crooked and incompetent?
The Jennings Police Department and the Jefferson Davis Parish Sheriff's Office were notorious for corruption and misconduct. In the '90s, multiple officers were involved or charged in major drug trafficking deals, obstruction of justice, illegal traffic stops, and using public funds to make large purchases for themselves. Jefferson Davis Parish still has nearly 20 unsolved homicides — for a town of just 10,000, this is both an extremely large number of murders and an appalling clearance rate (measure of crimes solved).
The misconduct carried into the new millennium, with officer Phil Karam deliberately open firing on several fellow cops, a sexual violence and harassment lawsuit filed by eight female Jennings cops against their male colleagues, and a police chief accused of stealing $4,500 in cash, 1,800 pills, more than 380 grams of cocaine, and several pounds of marijuana from the department's evidence room.
Multiple Coverups
In 2007, Sergeant Jesse Ewing discovered that two female inmates at the city jail had information on the murders (four at the time) and wanted to talk. They told Ewing on audiotape that "higher-ranking officers" had covered up the murders. Ewing didn't trust his colleagues, so he delivered the tapes to a local PI who then gave them to the FBI. The FBI turned them right over to the local task force Ewing didn't trust. Ewing was charged with malfeasance in office and sexual misconduct and was terminated, after having served 20 years. Ewing's tapes weren't released to the public, but much of the information on them is corroborated by task force interviews in which witnesses claimed that local law enforcement were somehow involved in the murders. That information wasn't made public either, until Brown reported on it.
Later, Brown learned through his investigation that Louisiana Congressman Charles Boustany had allegedly had sex with three of the victims at that motel where the girls worked. And that a field representative for Boustany actually owned the hotel. Boustany tried to sue Brown for defamation but dropped the suit after he lost the election.
There is literally a book's worth of corruption from law enforcement in Jennings, Louisiana. In 2009, in response to public outcry, DNA tests were performed on local law enforcement supposedly in an attempt to dispel "rumors" and "gossip." The results of those tests were not revealed though. And the strip club owner, Frankie Richard, seems to have eluded further charges despite his intimate connections with the girls and all of his shady dealings in Jennings. In 2007, Richard beat a rape case in which he allegedly threatened the victim: "If you tell anyone, bitch, you will end up like the others."
These Eight Women Deserve Justice
In 2020, a New Orleans nonprofit called the Promise of Justice Initiative called for a federal inquiry into Jefferson Davis Parish and surrounding communities' law enforcement, saying the area is subject to a "dangerous level of incompetence by law enforcement." The current Jeff Davis Parish Sheriff's Office Chief Deputy Chris Ivey released a statement saying, "This is something that happened 20 years ago and none of the people involved work for us, so I don't think we have anything to do with it."
And so the Jeff Davis Eight murders remain unsolved. It shouldn't matter that these eight young women were sex workers or struggled with drug addiction. Their lives still mattered. But law enforcement in the town where they were murdered seem to have discarded them like trash.
The letter from the Promise of Justice Initiative to the Justice Department stated, "The Jefferson Davis Parish law enforcement agencies and leadership have a long tradition of misconduct and corruption that has gone unchecked. This behavior has encouraged criminal activity and violence, especially violence against women, to flourish in the region."
Here's hoping the person who killed these women will one day be brought to justice.
This article was originally published on