Texas Church Offers 'Free Mom Hugs' At Pride Parade To Those Who Need Them
by Cassandra Stone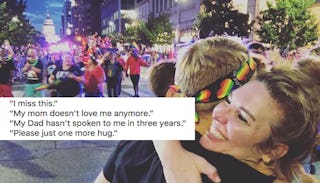 Image via Instagram/Jen Hatmaker
Because there's just nothing quite like a good mom hug
Members of a Texas church showed up to the Austin Pride parade this weekend and offered free "mom hugs" to all members of the LGBTQ community who needed one. Because everyone can use a good mom hug once in awhile, especially those who don't have relationships with their parents.
Mom and blogger Jen Hatmaker shared emotional images from the parade on her Instagram account, sharing that her "beloved little church" showed up to the parade, arms at the ready. They offered everything from "Free Mom Hugs, Free Dad Hugs, Free Grana Hugs, and Free Pastor Hugs like it was our paying job."
https://www.instagram.com/p/BmYbo5pgPQt/?hl=en&taken-by=jenhatmaker
Inspired by Sara Cunningham of Free Mom Hugs, Hatmaker and members of the Austin New Church were ready to let everyone at pride know they were loved with a warm embrace. "And when I say hugs, I mean THE KIND A MAMA GIVES HER BELOVED KID."
"Our arms were never empty," she writes. "We 'happy hugged' a ton of folks, but dozens of times, I'd spot someone in the parade look our way, squint at our shirts and posters, and RACE into our arms." She says plenty of people they encountered at the parade were in desperate need of a good mom hug.
"These were the dear hearts who said: 'I miss this,' 'My mom doesn't love me anymore,' 'My Dad hasn't spoken to me in three years,' 'Please just one more hug.'"
Oh, my own mama heartstrings are seriously tugged hearing that. As someone who was disowned by my own mother, I do know what it's like to crave that unconditional, strong, warm, physical embrace — there's something about a good mom hug that leaves you feeling like everything is going to be okay.
Hatmaker writes that she and the members of her church made sure to tell every single person they hugged that they were "impossibly loved and needed and precious." This is such an easy, simple, literally free act of kindness that can completely make someone's day. Unfortunately, it's common for members of the LGBTQ community to have not-so-great relationships with their parents or other relatives — so this act of acceptance and unconditional love is a truly beautiful thing.
"And we hugged until our arms fell off. This is what we are doing here, what we are here for," she writes. "The last pic is what you look like at the end of Pride covered in glitter, sweat, and more than a few tears."