'Hunger Games' Star Announces Pregnancy In Sweet Instagram Tribute To Mom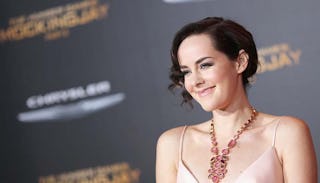 LOS ANGELES, CA - NOVEMBER 16: Actress Jena Malone attends premiere of Lionsgate's "The Hunger Games: Mockingjay - Part 2" at Microsoft Theater on November 16, 2015 in Los Angeles, California. (Photo by Mark Davis/Getty Images)
Jena Malone is best known for her role in the Hunger Games franchise, but she's got a new role on the horizon — she's going to be a mom. It's the first child for the 31-year-old star. The actress announced her pregnancy on Instagram yesterday with an ethereal photo and poetic tribute to her own mom.
"Womb to womb / To beating wing / I climbed out of the eternal / And into the shape of me,
Some words I wrote years ago when I was thinking about my own mother. And the woman she was when she had me. And the woman I was reaching to become. The shape your desires make out of you. The body you become to hold your dreams. It's with two feet firmly on the ground and a heart swelling in an ocean of love that I'd like to share the new shape I am becoming to hold the greatest dream of them all."
Malone mentions the photo was taken by her "baby daddy," photographer Ethan DeLorenzo. He shared another gorgeous shot of the mom-to-be on his Instagram account @uglyhippy:
He captioned the gorgeous photo, "My family. @jenamalone and my child to be."
Gorgeous star plus unbelievable landscape plus photographer "baby daddy" equals an amazing pregnancy announcement. Congratulations!
This article was originally published on